193 - Who Wants To Hear Our Stories?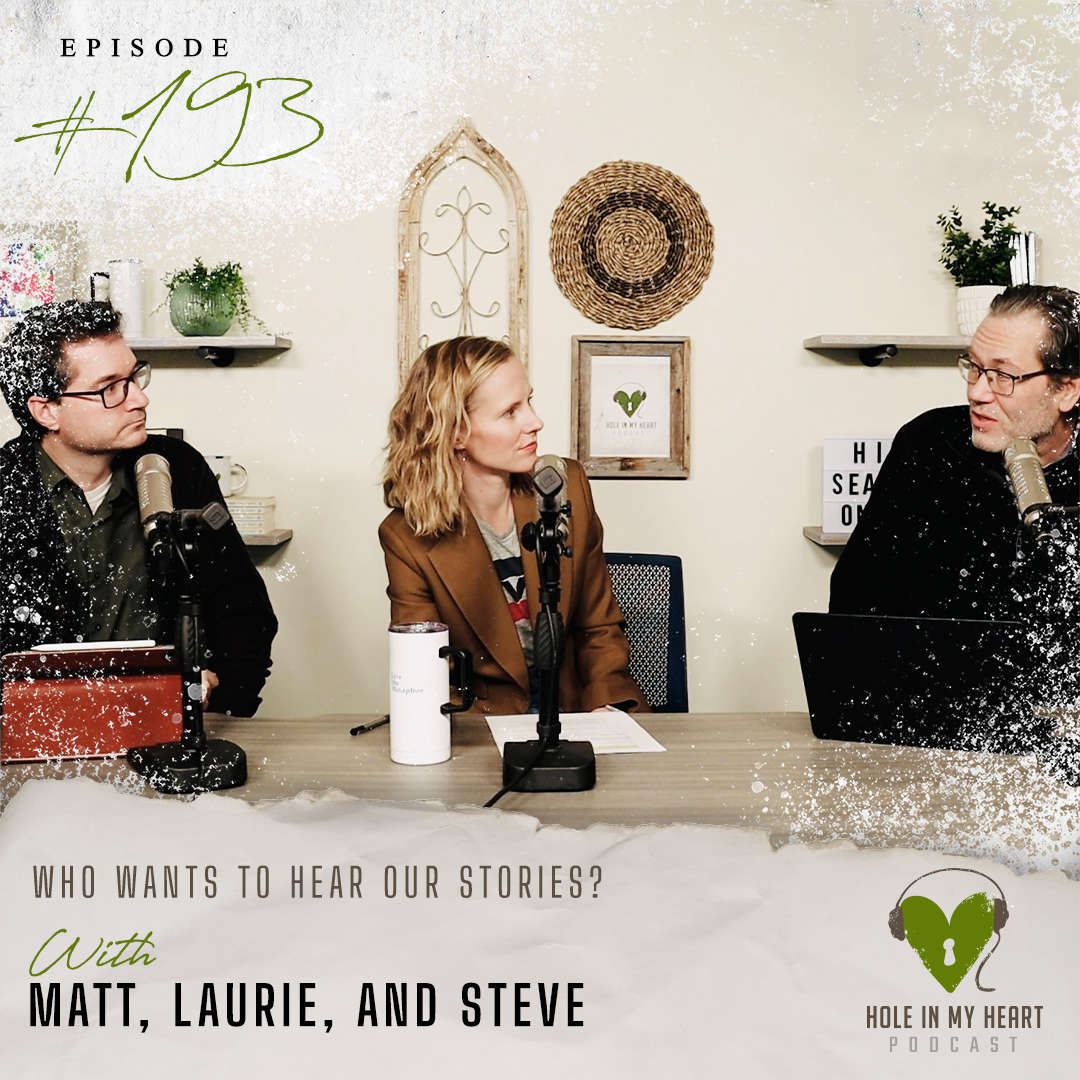 Posted by: Hole In My Heart Podcast | Friday, March 10th, 2023 (12:42pm)
* Content/Trigger Warning: Laurie shares a brief and not graphic reference to her sexual molestation when she was 11.
Who are these people behind the microphones? Who is Steve? Who is Laurie? Who is Matt? Today, we are going to get to know them!
This episode:
-- Steve shares his story of depression, feeling inauthentic, and finding hope in Jesus in the midst of addiction.
-- Matt offers his journey of depression and subsequent porn addiction in marriage.
-- Laurie shares how she learned to trust Matt again after his deception and addiction, as well as shares her own story of wrestling with attractions to the same sex throughout her entire life.
EPISODE HIGHLIGHTS:
"God did answer the prayer, but at the time I was like, 'It needs to look like this. It needs to happen like this… where I don't get in trouble. Where I don't get exposed. And I can maintain my image.'" —Steve O'Dell
"Because of what we have been going through with Laurie's health stuff, I am completely powerless. That is is hard for me. I want to escape… [but] God is helping me not to disconnect. " —Matt Krieg
"Steve, I so relate (and to Matt, you too!) to that double life. We so want our churches to be these authentic places, but we are not great at knowing how to work with mess."—Laurie Krieg
HIMH Show Notes: https://lauriekrieg.com/podcast/who-wants-to-hear-our-stories-with-matt-laurie-and-steve/
Learn More About HIMH: https://lauriekrieg.com/
* This podcast and its content are designed and intended to provide a place for conversation. Topics and advice covered in this podcast should not be taken as professional medical advice or emotional or spiritual counsel. If you or a loved one needs professional help, they should seek a licensed professional. The views covered and discussed in this podcast do not necessarily reflect those of WCSG radio or Cornerstone University. Ideas presented are not necessarily endorsed by WCSG radio or Cornerstone University.
Family-Friendly Commercial-Free