FAQ'S
1. How is 91.3 WCSG supported?
WCSG is supported by listeners and businesses in the community who value the ministry and outreach of WCSG. If you would like to donate to WCSG, click here.
2. Is 91.3 WCSG "commercial-free?"
Yes, WCSG is licensed by the FCC as a non-commercial radio station, which means we air no commercial content (sales, qualitative, quantitative, call to action, etc). You will hear thank-you mentions to businesses that support WCSG as well as content about WCSG activities and organization information.
3. Are donations to 91.3 WCSG tax deductible?
WCSG is a ministry of Cornerstone University, Grand Rapids Michigan and a 501(c)(3) non-profit organization. All donations are tax-deductible to the extent the law allows. Contact your tax consultant with any specific questions you may have.
4. How can I have my event promoted on 91.3 WCSG?
WCSG offers an online resource for promoting community events found here. To have your event listed on our website, click here to fill out our online submission form.
5. What number do I call for contests and song requests?
Call the studio at 888-942-WCSG (9274)
Read our General Contest Rules here
6. What are the station's location and office hours?
WCSG is located on the campus of Cornerstone University on the E Beltline on the corner of Bradford, 3181 Bradford Street NE, Grand Rapids MI 49525.

Office hours:
Mon - Thu 8:30am - 4:30pm
Fri 8:30am - 1pm
Closed for all major holidays
Click here for directions.
7. So, how far does the WCSG signal reach?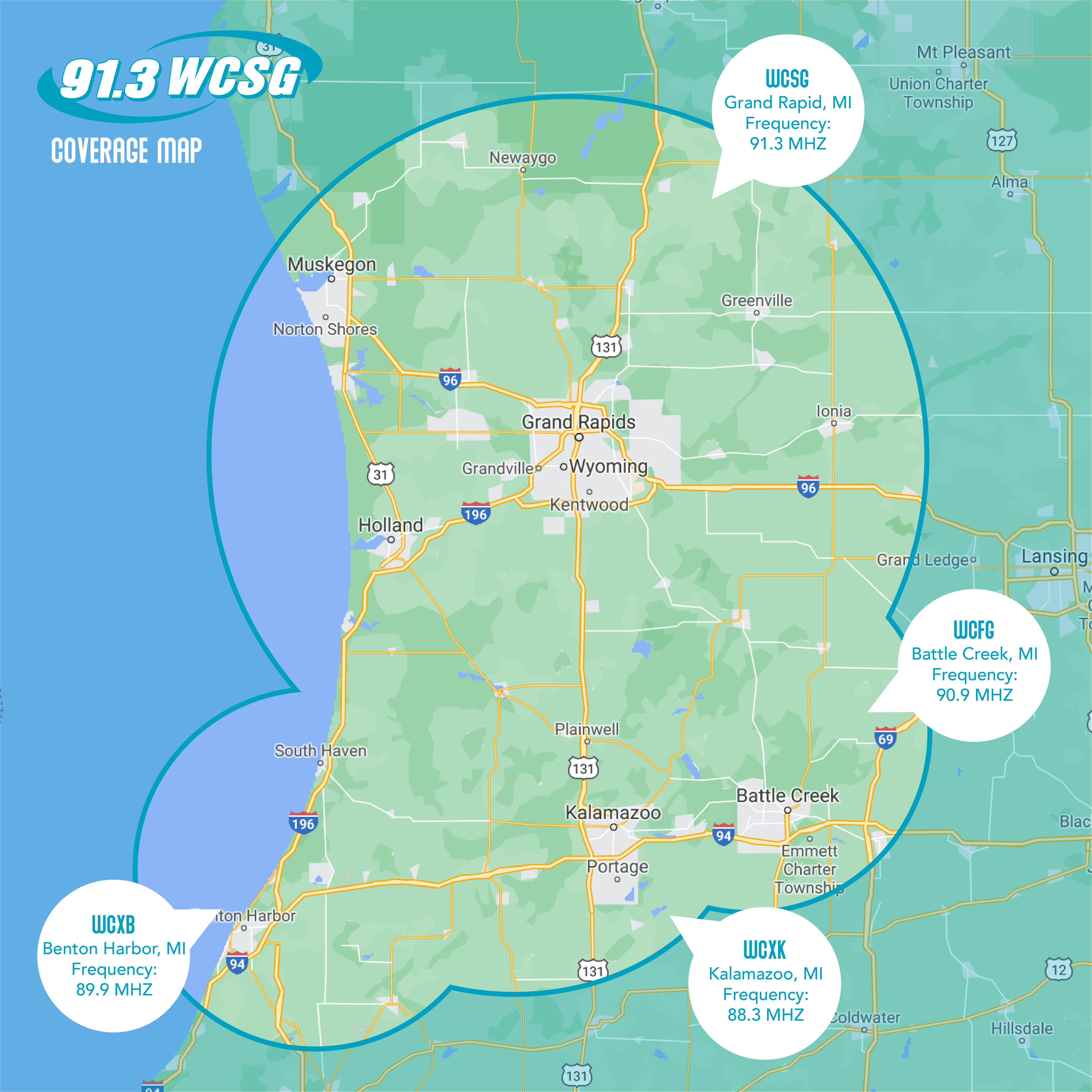 WCSG can be heard in the greater Grand Rapids (91.3), Kalamazoo (88.3), Springfield/Battle Creek (90.9), and Benton Harbor (89.9) areas.

View a Coverage Map on our Partners Page and visit our Streaming and Apps Page for details about online listening.
8. How can I get a 91.3 WCSG sticker for my car?
Contact the WCSG office with your request, at 616-942-1500 or email us.
9. What is a "Daysponsor" and how do I become one?
A Daysponsor is an opportunity we provide to our listeners to recognize a day of significance in their life. It can be honoring a lost loved one or just a day that is important to you.
A Daysponsor provides the funds and then has the opportunity to record their spot or have one of our staff record it for you. That spot will be played repeatedly on the day of your choice to honor that special day in your life.
For more information or to become a Daysponsor, please visit our Daysponsor Info page.
10. Can I come to the station for a tour?
Yes! We do offer some tours of our facility. To inquire please follow this link.
11. How can I or my organization receive items from your Community Connection drives?
If you are an organization we have this form available for you to fill out to apply to be a receiving organization. Click Here.

If you are an individual we will need to be contacted by a church or school on your behalf, please call 616-942-1500 and ask for the promotions department. They can help with navigating the exchange and communication with the church/school, as well.
---
Family-Friendly Commercial-Free