8/5/21 - Travelin' Together - Eastern Market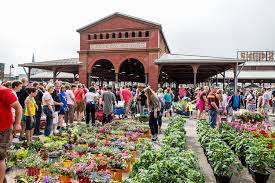 Eastern Market Detroit - photo credit: usicomos.org
Posted by: Becky Carlson | Thursday, August 5th, 2021 ( 6:00am)
August 1-8,2021 is National Farmers Market week.
Michigan is home to thousands of farms, orchards and vineyards and is one of the best places to grab fresh food is at a local farm market.
As one of the most agriculturally diverse states in the nation, Michigan is a leader in producing everything from apples, tart cherries and blueberries to asparagus and cucumbers.
Communities all across Michigan host farmers markets throughout the year and you can also find fresh produce at stands along the side of the road.
Eastern Market in Detroit is considered to be a destination market.
There are more than 250 independent vendors and merchants. They are open all year long.
There are 4 primary markets that have a unique set of foods, products, and experiences to offer.
The Sunday Market is not your traditional farmers market. It showcases the work of local artists, cooks, jewelers, musicians, and more.
You can also pre-order from vendors online.
The Eastern Market is located in the Detroit area, just off I-75, not far from Midtown.
More information at: easternmarket.org and michigan.org/farmers-markets.
Family-Friendly Commercial-Free