5/4/23 - WCSG Travelin' Together Series - The Cascades in Jackson County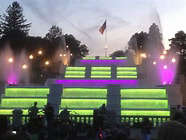 The Cascades - experiencejackson.com
Posted by: Becky Carlson | Thursday, May 4th, 2023 ( 6:00am)
(Jackson County, Mich.) - An illuminated, colorful, man-made waterfall amplified by fireworks stands out on summer nights in Jackson. The Cascades, within the boundaries of the Sparks Foundation County Park, is one of Jackson's most spectacular attractions.

For more than 85 years, The Cascades has captivated locals and visitors from around the world. Jackson's most famous landmark, under the management of the Jackson County Parks Department, promises to amaze and delight for generations to come. Family Fun Night is every Wednesday in the summer and you can expect live music and costumed characters, along with the Falls. Live music can also be enjoyed every summer Saturday in the Rotary Bandshell at Sparks Park (also known as Cascades Park).
The park offers visitors a wide-range of activities, especially during the summer months.
Jackson County Parks – The Cascades
Cascades Park 1400 S. Brown Street
Jackson, MI 49203
View Venue Website
Family-Friendly Commercial-Free