3/30/23 - WCSG Travelin' Together - Allegan Event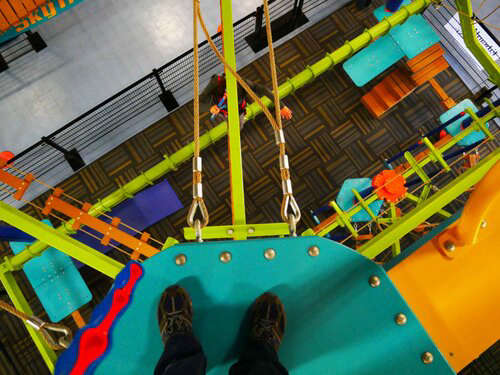 Ropes course at Allegan Event span the facility and up to 35 feet above ground. Image courtesy of Allegan Event. 3/30/23.
Posted by: Joel Hill | Thursday, March 30th, 2023 ( 6:00am)
Spring break may mean traveling to a warmer destination, but for those looking to staycation in West Michigan, there are plenty of activities to engage in.
Our WCSG's Travelin Together series stops at Allegan Event, an indoor adventure park that boasts Michigan's largest indoor ropes course, complete with levels from kids to older students. The Sky Trails ropes course includes a zip line 35 feet above the ground. There's a Sky Tykes course for the very little ones, and a rock-climbing wall that will provide challenges for kids of all ages. The park also offers an indoor arcade, and an outdoor maze that's weather dependent.
For more information, visit Allegan Event.
Family-Friendly Commercial-Free