198- Identity Series: I Am Befriended with guest Sheridan Voysey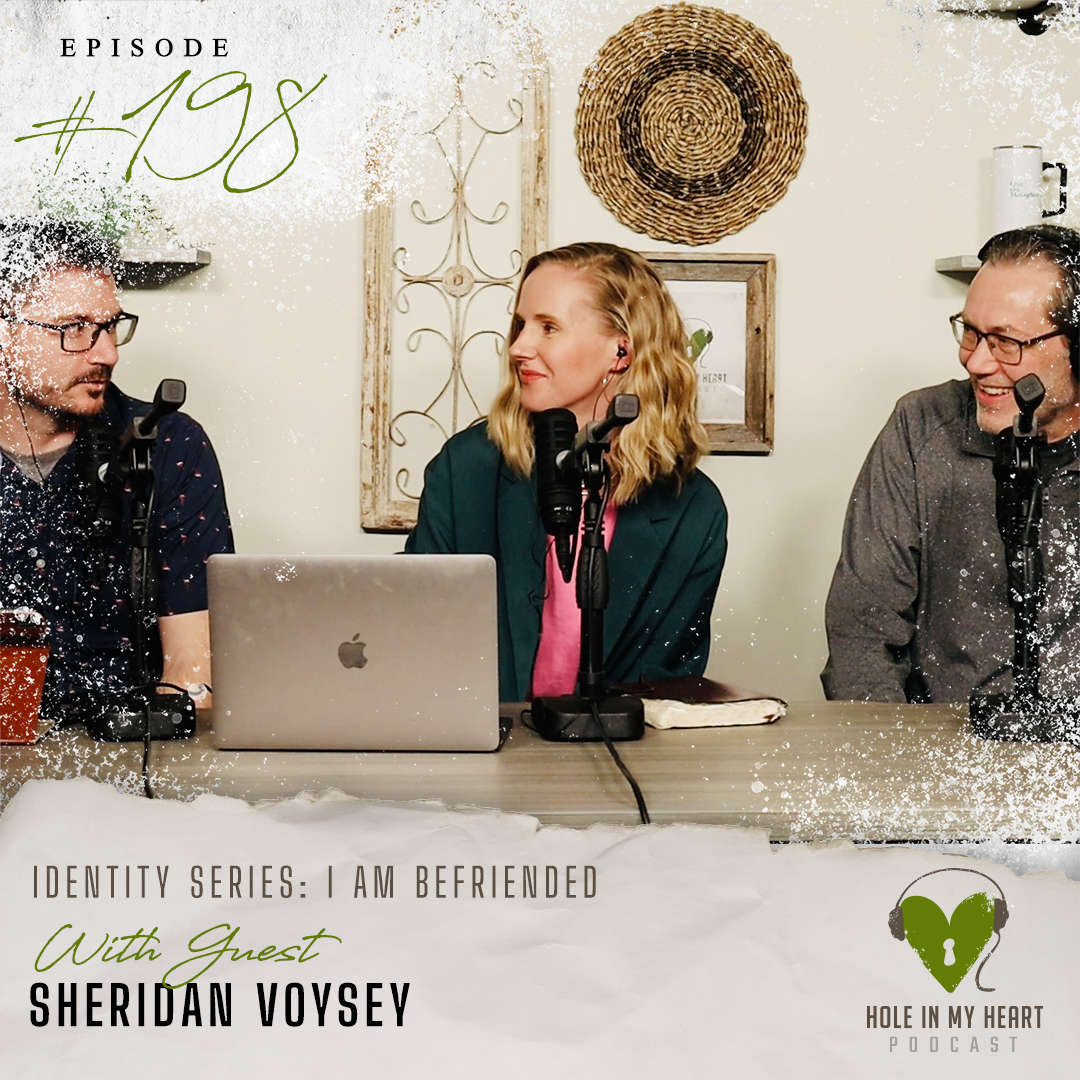 Posted by: WCSG & Hole In My Heart | Thursday, May 18th, 2023 ( 4:36pm)
What is it about adult friendships that can make them so hard to cultivate? Take a seat at the friendly podcast table as Matt, Laurie, and Steve discuss this and more with their special guest!
People move, change, or we simply lose touch. What is the secret of friendship-making (and keeping)? (Is there one?) Author and founder of The Friendship Lab, Sheridan Voysey, is back on the podcast today to help us unpack these questions as well as: Why is friendship often overlooked? Is it true that 1 out of 4 adults in the Western world has no close friends? What are the four characteristics of a true friend? How does knowing we are befriended relate to our identity in Christ?
EPISODE HIGHLIGHTS:
"We have a huge friendship crisis going on in the Western world right now. Here in the United Kingdom, somewhere between 20 to 25 percent of all British adults…have no close friends. And, 1 in 10 people…have no friends at all. That's roughly echoed in America…with 30 to 40 percent of [American] people over the age of 35 being chronically lonely… Around 1 in 4 people in Australia have no close friends. So, we have this 25 percent rate floating around the Western world, and 10 percent have no friends at all. I really felt God saying, 'What if you were to focus on that figure, and bringing it down? What would that take?' And I thought, 'My goodness, a book would not scratch that itch.'" —Sheridan Voysey
"This whole stigma around loneliness, stigma around friendlessness—everybody in the world (even if they simply go and move houses) will find themselves lonely for a time and need to make new friends. So, we all go through this, and we need to de-stigmatize it." —Sheridan Voysey
To Watch HIMH: https://www.wcsg.org/blogs/himh-vodcast/
For More Videos/Interviews/Podcasts visit: https://www.wcsg.org
Follow: https://www.instagram.com/wcsgradio/
Like: https://www.facebook.com/wcsgradio
Learn more about HIMH: https://lauriekrieg.com/podcast/
Listen to Sheridan's last episode with us about wrestling through infertility and other life disappointments: https://lauriekrieg.com/podcast/when-life-doesnt-go-as-planned/
Learn more about Sheridan's Friendship Lab: https://sheridanvoysey.com/friendship/
Read Sheridan's work: https://sheridanvoysey.com/about/
**This podcast and its content are designed and intended to provide a place for conversation. Topics and advice covered in this podcast should not be taken as professional medical advice or emotional or spiritual counsel. If you or a loved one needs professional help, they should seek a licensed professional. The views covered and discussed in this podcast do not necessarily reflect those of WCSG radio or Cornerstone University. Ideas presented are not necessarily endorsed by WCSG radio or Cornerstone University.
Family-Friendly Commercial-Free