199- Identity series: I Am Worthy of Care with guest Alison Cook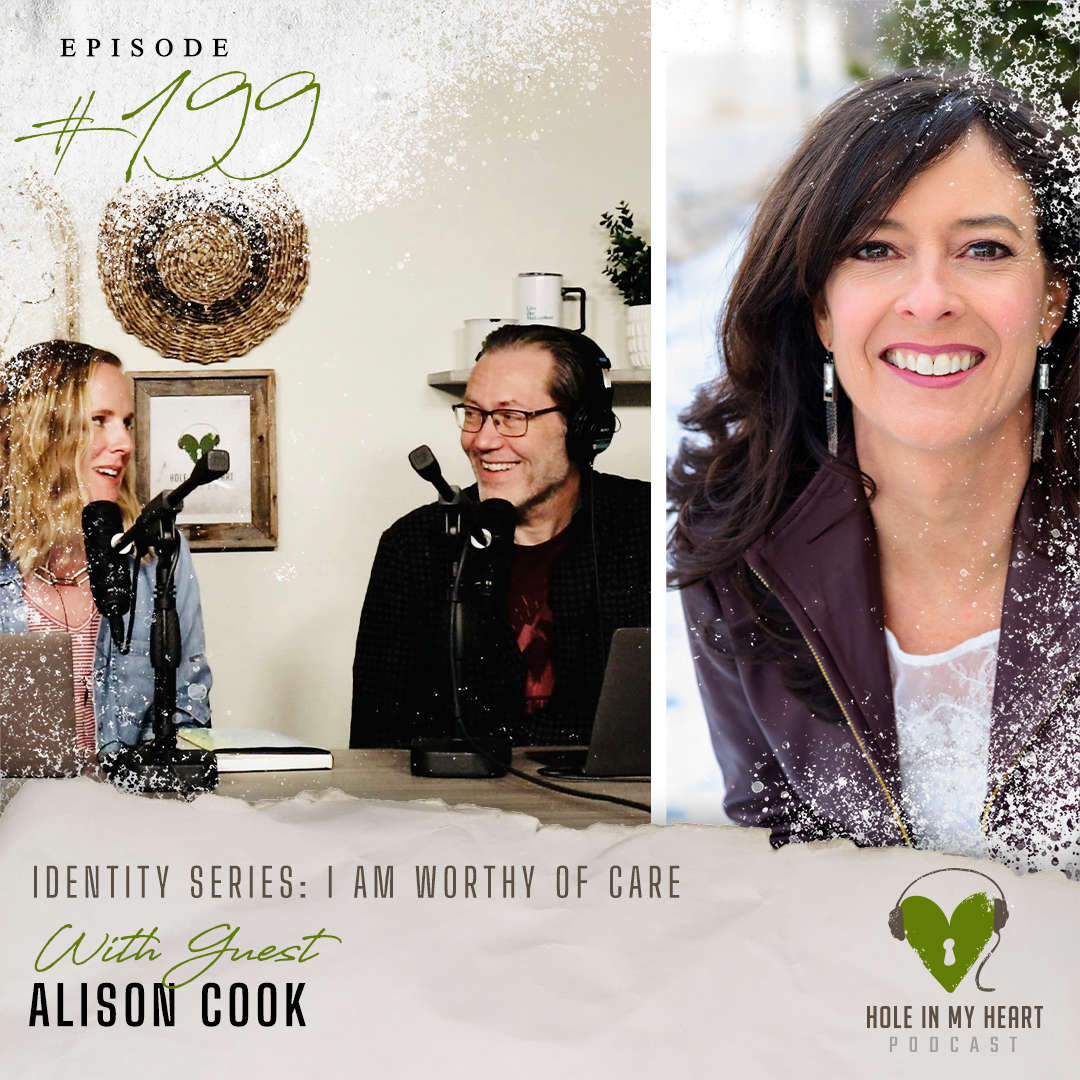 Posted by: WCSG & Hole In My Heart | Wednesday, May 24th, 2023 ( 1:41pm)
Matt, Laurie, and Steve talk about codependency (over-reliance on people for our sense of stability), counter-dependence (under-reliance on people), and interdependence (healthy dependence on people) today on the podcast and the conversation does not disappoint.
Psychologist and author, Dr. Alison Cook, leads us biblically through questions about codependency as well as: —Is it wrong to put others first? —How can we be both worthy of care yet also "conceived in sin" (Ps. 51:5)? —How can we trust again after being burned by others? —How does all of this relate to our identity? Pull up an earbud, friends. This is a great one.
EPISODE HIGHLIGHTS:
"If I had a word for pastors, I would say: Don't assume that folks are coming in with a healthy relationship with the self before we ask them to die to it." —Alison Cook
"We change in the context of care and compassion verses in the context of condemnation, judgment, and criticism. That's just what's true psychologically… 'God's kindness is what leads us to repentance.' (Rom. 2:4)." —Alison Cook
"In a healthy home, there is that balance of, 'You are so important, you matter, you are worthy, I am here for you, my dear child. And, as a part of that, I want to equip you to go out among other people and from that place of knowing how valuable you are, shine that light of value onto others.' That's a very different thing than, 'Put others first! You don't matter. It's more about them!' That's not actually true. It's because I know I matter, and I have experienced what it feels like to matter to God I can come into your life and shine some of that onto you—that you matter just like I matter."
—Alison Cook
"Learning how to trust again after one has been wounded? … 'I was hurt in the past, I don't ever want to depend on somebody again.' To me, that's a cue that we need to repair something in the self. 'What cues did I ignore? It's not my fault and there's no shame in that, but I did ignore some cues… How will I do that differently next time?' … Oh, that's hard when you have been burned."—Alison Cook To Watch
HIMH: https://www.wcsg.org/blogs/himh-vodcast/
For More Videos/Interviews/Podcasts visit: https://www.wcsg.org
Follow: https://www.instagram.com/wcsgradio/ Like: https://www.facebook.com/wcsgradio/
Learn more about HIMH: https://lauriekrieg.com/podcast/
Hear Alison with us the last time she was on the podcast talking about how to deal with overwhelming thoughts and emotions here: https://lauriekrieg.com/podcast/how-to-deal-with-those-overwhelming-thoughts-with-dr-alison-cook/
Find Alison's latest book, The Best of You, here: https://rb.gy/y41f0
**This podcast and its content are designed and intended to provide a place for conversation. Topics and advice covered in this podcast should not be taken as professional medical advice or emotional or spiritual counsel. If you or a loved one needs professional help, they should seek a licensed professional. The views covered and discussed in this podcast do not necessarily reflect those of WCSG radio or Cornerstone University. Ideas presented are not necessarily endorsed by WCSG radio or Cornerstone University.
Family-Friendly Commercial-Free