197 - The Identity Series : I Am Known with guest Joan Rozeboom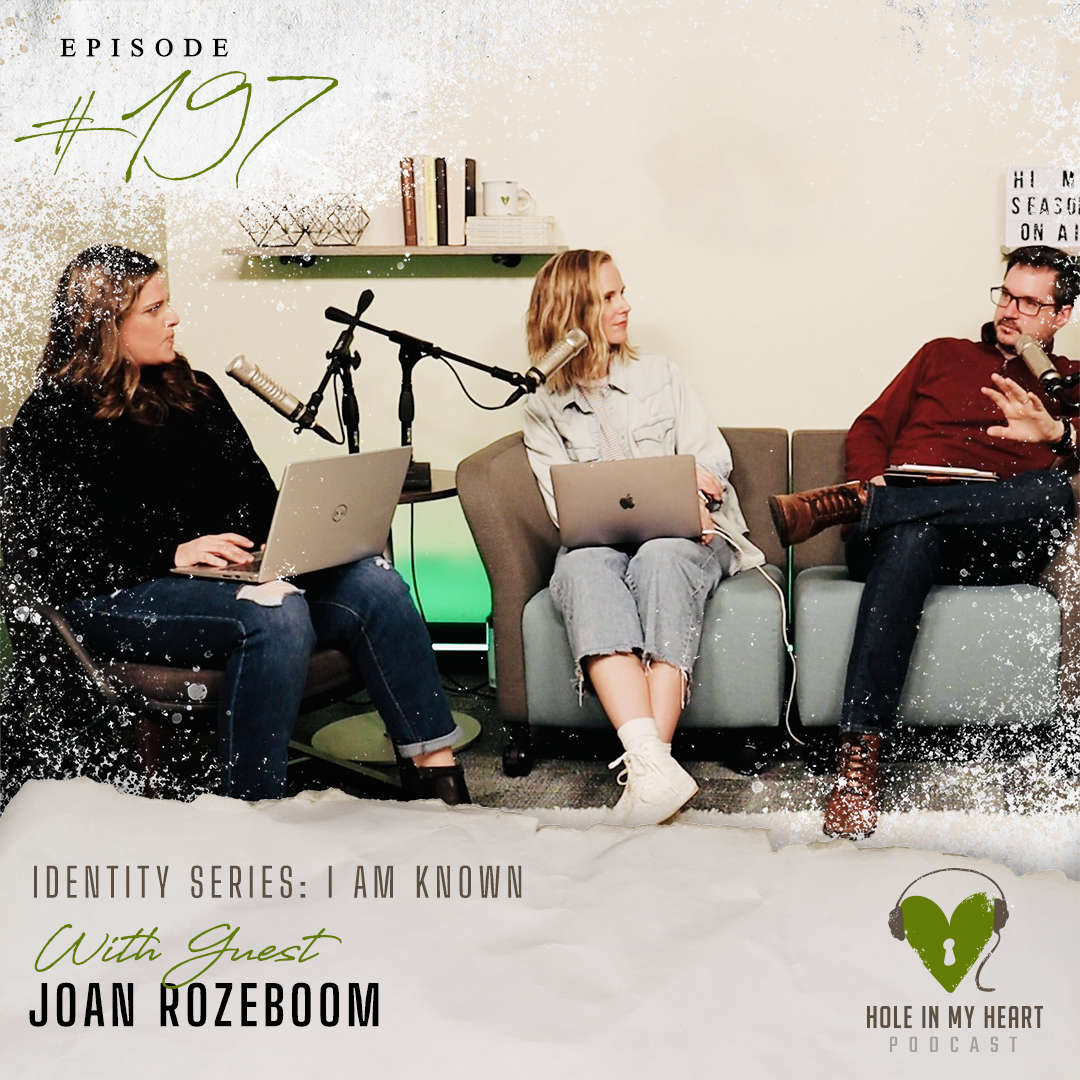 Posted by: WCSG & Hole In My Heart | Thursday, April 27th, 2023 (11:37pm)
The desire to be "known" is wired deep within us. However, when some of us experience being known it can be such a jarring experience that we move toward a couple of options: Stoicism ("I'm good without that deep knowing…that's too uncomfortable…") or addiction/consumption ("I need feeling more!").
What is the proper response to being known by God and others? With friend of the podcast, Joan Rozeboom, Laurie, Matt, & Steve cover this topic as well as:
—How does Joan, a single foster mom, feel known by God and others?
—What parts of us need to be known and what need to be "put to death" as Paul says in Colossians 3:3-10)?
—How can single people and married people truly know each other like Jesus prays for us to know one another in John 17:21)?
EPISODE HIGHLIGHTS:
"God, I don't understand how this can be your best for me but you promised you will withhold no good thing from me. So, I am going to reject the lie that God is withholding something good, and I am going to believe that God has a great purpose in this. And I am going to rest in Him even if I never see the good or the purpose this side of eternity.'" —Joan Rozeboom
"The reality is you are left out as a single person a lot--I don't want to downplay that at all. But when my perspective changed to: How can I serve? Who can I invite in? How can I go up to someone who is new and invite them instead of standing there and saying, 'Why is no one welcoming me?' When that perspective changed, that changed everything for me in my interactions in the church." —Joan Rozeboom
"When we understand how truly known and fully loved by God we really are? We don't *need* to find these things in other places. It's nice if someone else knows me, but I don't *need it* from them because I *have it* from God." —Joan Rozeboom
-
To Watch HIMH: https://www.wcsg.org/blogs/himh-vodcast/
For More Videos/Interviews/Podcasts visit: https://www.wcsg.org/all-podcasts/
Follow: https://www.instagram.com/wcsgradio/
Like: https://www.facebook.com/wcsgradio/
Learn more about HIMH: https://lauriekrieg.com/podcast/
HIMH Show Notes: https://lauriekrieg.com/podcast/
**This podcast and its content are designed and intended to provide a place for conversation. Topics and advice covered in this podcast should not be taken as professional medical advice or emotional or spiritual counsel. If you or a loved one needs professional help, they should seek a licensed professional. The views covered and discussed in this podcast do not necessarily reflect those of WCSG radio or Cornerstone University. Ideas presented are not necessarily endorsed by WCSG radio or Cornerstone University.
Family-Friendly Commercial-Free