192 - Why Hole In My Heart?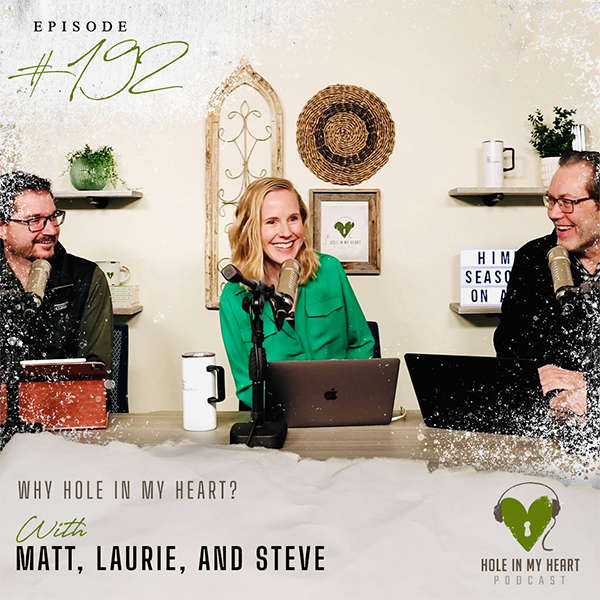 Posted by: Hole In My Heart Podcast | Thursday, February 23rd, 2023 ( 3:54pm)
Today Laurie, Matt & Steve get behind the microphones (and cameras!) to reacclimate longtime listeners and welcome new ones.
--Play Two Truths and a Lie with each other (Can you guess the right answer?)
--Talk about how the gospel has *still* been good news for them in the last year
--Offer how the podcast began, how HIMH connected with WCSG, and the podcast is named "Hole in My Heart" anyway…?
--Engage a conversation about sin, neediness, and why we run to things we don't truly want or need
--Share what they're looking forward to in the new season of HIMH!!
EPISODE HIGHLIGHTS:
"Whether or not I get healed (I don't know), I do know eternal [victory] is guaranteed." —Laurie Krieg
"Often times, we can look at our needs and think they are character flaws or deficiencies when in actuality they are created order."—Matt Krieg
"I think God has been working on me a lot on integrating—on becoming a real, whole person."—Steve O'Dell
HIMH Show Notes: https://lauriekrieg.com/podcast/why-hole-in-my-heart/
Learn More About HIMH: https://lauriekrieg.com/podcast/
* This podcast and its content are designed and intended to provide a place for conversation. Topics and advice covered in this podcast should not be taken as professional medical advice or emotional or spiritual counsel. If you or a loved one needs professional help, they should seek a licensed professional. The views covered and discussed in this podcast do not necessarily reflect those of WCSG radio or Cornerstone University. Ideas presented are not necessarily endorsed by WCSG radio or Cornerstone University.
Family-Friendly Commercial-Free