11/04/21 - WCSG's Travelin' Together - Provin Trails Park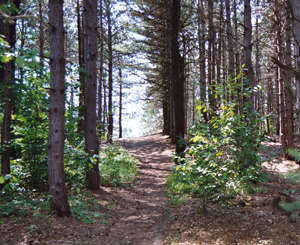 Accessible trails that are not only walkable, but pet friendly. Image courtesy of the Kent County Parks System.
Posted by: Joel Hill | Thursday, November 4th, 2021 ( 5:59am)
Part of exploring the great outdoors is taking a furry friend along for the hike. Our WCSG Travelin' Together series features one local trail that's especially pet friendly.
For a walk that's a little different try out the Provin Trails, just outside Grand Rapids at Four Mile and Bird Avenue. The park trails are closed to bikes and motorized vehicles, but that makes them especially pet friendly. As long as your dog is on a leash, you can explore the intersecting set of trails, walk through dense pine stands and open sand barrens.
In the winter months, the trails are open to cross-country skiers and snowshoers, but the trails will not be groomed. For more information, visit Provin Trails.
Family-Friendly Commercial-Free