Save Your Back With These Shoveling Tips!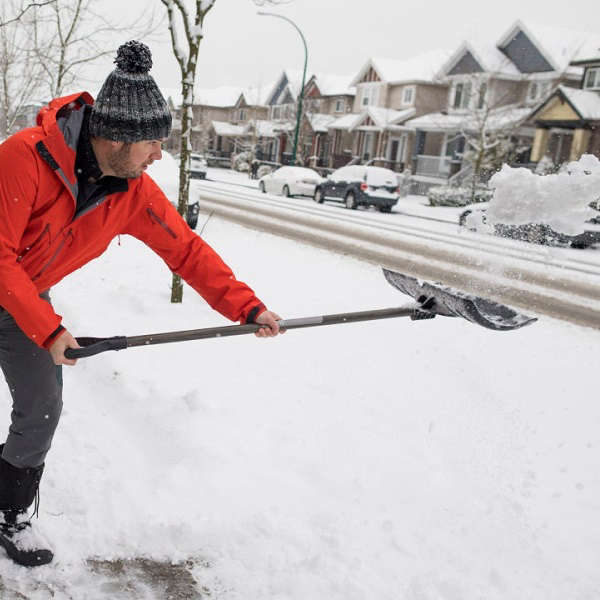 Source: Getty Images/Christopher Kimmel / Aurora Photos || https://weather.com/
Posted by: Jeremy & Amanda | Wednesday, January 25th, 2023 ( 7:10am)
Winter isn't over, and there are some significant tactics that you can use to help keep you safe and avoid serious injury when you have to get out and shovel!
Recognize this is a workout!

You may be out of practice, like you would if you haven't been training to run. Just because it's commonplace, doesn't mean that your body is prepared for it.

Shovel early and shovel often!

It is way easier on your back and body to shovel a couple inches of snow several times, rather than 12 inches all at the same time.

Push the snow, instead of lifting it!

Use your shovel like a snow plow and push it into a pile, and then slice it off in small chunks to toss it.

Keep your back straight!

Just like you are supposed to life a heavy box, bend with your legs, not your back!

Switch sides!

Since shoveling is a workout, be sure to flip back and forth between your right side and left side to minimize fatigue on one side.

Finally...Warm up, take breaks, and go easy on yourself!

Again...you are WORKING OUT! Stretch, take breaks, get warm, and take it easy!
Also...Amy called this morning to inform us that Amazon sells a shovel with WHEELS! Amy said that it takes a lot of the strain out of shoveling, so perhaps check that out!
Read more about these shoveling tips HERE!
~Jeremy & Amanda
Family-Friendly Commercial-Free