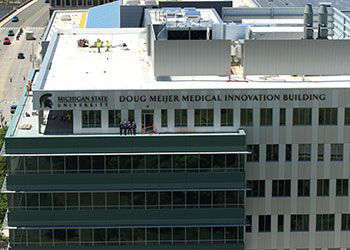 innovationparkgr.msu.edu/doug-meijer
West Michigan residents will benefit from a new total body scanner that arrived this week.
(MSU College of Human Medicine) - Michigan's first total body PET/CT scanner arrived May 9 at the Michigan State University Radiopharmacy in the Doug Meijer Medical Innovation Building. The total body scanner can scan patients with cancer much faster and more complete, from head to toe in a single scan in as little as 60 seconds (compared with 40 minutes on conventional imaging).
BAMF Health will begin using this equipment to treat patients for prostate cancer and neuroendocrine tumors in July. Using molecular imaging and molecular targeted radiation therapy, the company provides patients with what it calls intelligence-based precision medicine.
The Doug Meijer Medical Innovation Building is located next to the MSU Grand Rapids Research Center. This new facility will drive innovation the public-private partnerships by encouraging relationships across tenants, and as a result, bring new discoveries to market.
The Doug Meijer Medical Innovation Building is one of four buildings MSU has developed along Grand Rapids' Medical Mile. Once all four buildings are completed in 2022, there is an estimated annual economic impact of $339 million for West Michigan, according to a recent study.