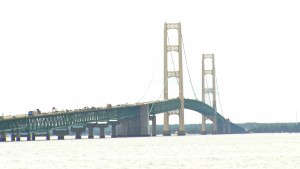 Mackinac Bridge - file
The Mackinac Bridge was shut down for nearly 3 hours Sunday afternoon.
(9&10 NEWS) - The Mackinac Bridge is now re-opened after being shutdown for nearly three hours Sunday afternoon due to a bomb threat.
All traffic in both directions was stopped as Michigan State Police and Mackinaw City Police swept the bridge and found no threats.
The Coast Guard also halted all air and marine traffic in the Straits.
There is no information right now on how the threat was made or what specifically was said.
There was heavy traffic while crossing the bridge in either direction for the rest of the evening, once it reopened.
Sunday's closure of the Mackinac Bridge raised big questions for those participating in the Chicago Yacht Club's Race to Mackinac Island.
Organizers say because of the incident they were preparing to move the finish line to before the bridge.
Boats are making their way across Lake Michigan for the 112tb Chicago Yacht Club Race to Mackinac.