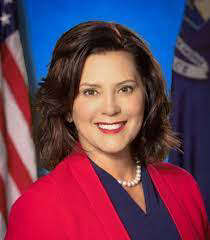 Governor Whitmer - file photo ,nga.org
The first 4 winners of the MI Shot to Win Sweepstakes, includes a Wyoming woman.
Governor Whitmer announced this afternoon the first 4 winners of the MI Shot to Win Sweepstakes in which each of the 4 will receive $50,000.
The winners included: Amber Berger of New Baltimore, Adrienne Peterson of Southfield, Christopher Ackerman of Detroit, and Larita Lee of Wyoming.
Larita Lee was vaccinated July 4 at a Family Fare in Wyoming. She said she is going to use her money as a down payment on a new house.
The $1 million dollar drawing was notified after the drawing on Monday but won't be announced publicly for a few days.
As of today, some 1.8 million people had entered the sweepstakes to win cash prizes and college scholarships.
The Governor says the sweepstakes is to provide incentives to Michiganders to get a COVID-19 vaccine as soon as possible this summer.
Vice-President Kamala Harris visited Detroit on Monday, in part to urge residents to get vaccinated.