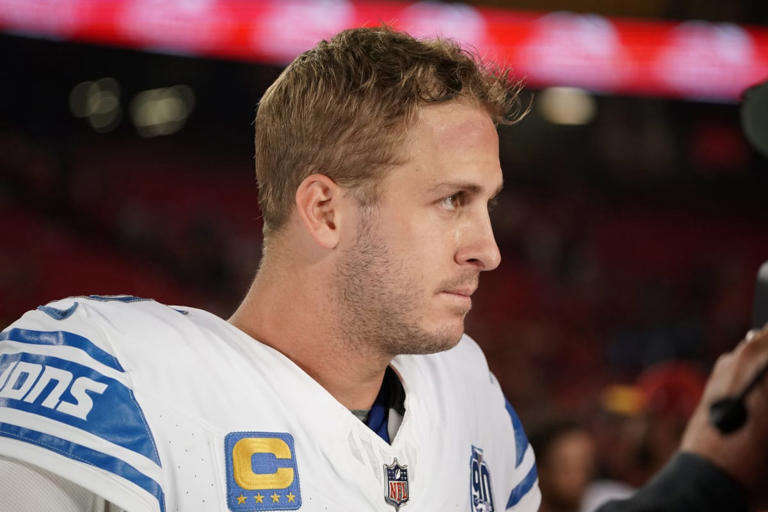 QB Jared Goff - Detroit Lions FanNation
The Lions open their season with a win over Super Bowl champs Kansas City Chiefs, 21-20.
KANSAS CITY, Mo. - The Detroit Lions beat Kansas City 21-20 on a go-ahead touchdown run by David Montgomery, then two huge stops on defense.
Head coach Dan Campbell and the Lions went into GEHA Field at Arrowhead on a night when the Kansas City Chiefs raised their Super Bowl banner and defeated the defending champions and reigning MVP Patrick Mahomes, 21-20.
A David Montgomery 8-yard touchdown run gave the Lions a 21-20 lead with just over seven minutes remaining in the game. The Lions' defense did their part from there forcing a three and out and turnover on downs, and the offense was able to whittle away the final two minutes of the game behind their stout offensive line and run game.
QB Comparison: Goff was very solid, completing 22-of-35 passes for 253 yards with one touchdown, no interceptions and a 94.1 passer rating. He extended his streak of attempts without throwing an interception to 359.
Mahomes completed 21 of his 39 passes for just 226 yards with a couple touchdowns, one interception and a 77.5 rating.
It was a complete team effort to start the year 1-0.
After the game, Lions coach Dan Campbell addressed the team : " Everything we talked about, that's how it went down. We had to be patient, man. Offense, we go all the way down and score. Defense, we needed a takeaway. We come out of halftime, we get a huge takeaway. I told you guys, we're built for this. I'm proud of you guys."
The Lions are now 1-0 heading into a long layover before hosting the Seattle Seahawks in their home opener next week.