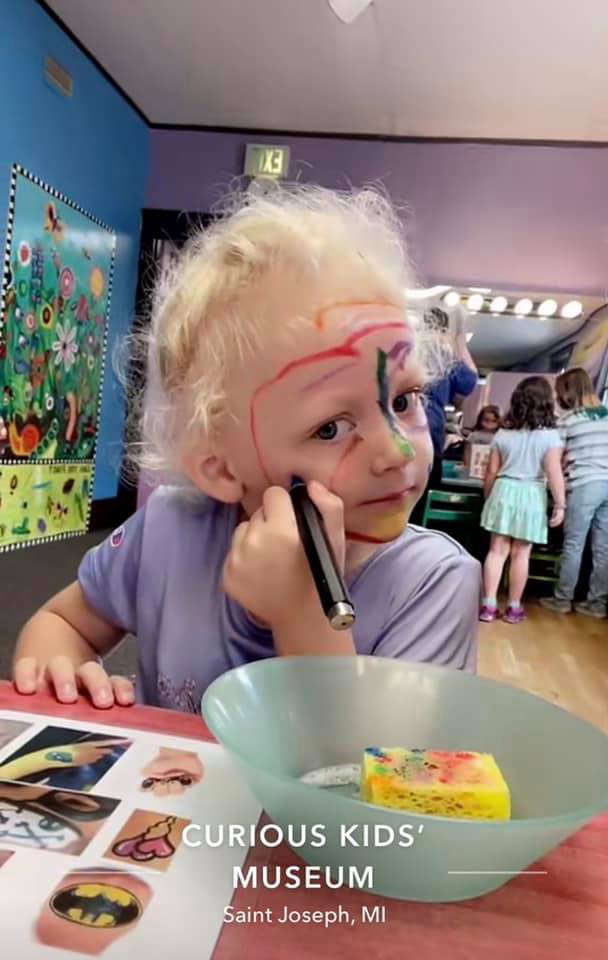 Curious Kid's Museum facebook page
The Curious Kids' Museum in St. Joseph inspires children to explore and learn through cooperative hands-on play.
The Curious Kids' Museum is located on the shores of Lake Michigan, next to Silver Beach in St. Joseph, Michigan.
Curious Kids' Museum (CKM) and the new Curious Kids' Discovery Zone (DZ) invites you to come play, learn and be curious!
CKM was founded by educators and parents to provide an environment that invites curiosity, allows exploration, celebrates childhood and inspires learning! With a shared mission and philosophy, both museums are places where children and their adults can pursue their natural curiosity through creative, hands-on play!
The Museum hosts a number of exhibits designed for children to learn through play and exploration a environment that are designed just for them.
The Curious Kids' Museum offers a number of family programs as well as outreach programs that will travel .
THE FOLLOWING PROGRAMS MAY RESUME AROUND FALL 2021
Family Programs
Experiment, create and have fun with Family Programs every week at Curious Kids' Museum. Programs in science, history, culture, and technology happen every Saturday. Scroll down to see what Wee Discover is offering! Wee Discover is a special Early Childhood Development program offered every Wednesday morning throughout the school year at Curious Kids' Museum. Wee Discover features a preschool story and hands-on science fun make-and-take to help kids ages 2-5 discover the world around them and develop a love of reading and creativity. These programs are free with admission and for Curious Kids' members.
OUTREACH PROGRAMS
The Curious Kids' Museum Outreach Program has changed. Our new programs meet the State of Michigan's benchmarks for grades K – 4. These programs are designed to help teachers and curriculum developers select useful and appropriate resources for their students to enhance learning in the classroom. We provide hands-on, interactive programs that meet or supplement curriculum objectives and provide educational fun. Outreach Exhibits and Programs feature a short, informational learning introduction on the topic and exciting exhibits, followed by Hands-on Exploration by your students or guests at any venue.
Classroom
Gymnasium
Library
Festival
Block Party
Birthday Party
Family Reunion
Family Night at School
Summer Recreation Program
Summer School
Employee Picnic
Our activities can be customized for ages 1 – 100 and groups of any size. ALL travel exhibit programs are adapted for each grade level K – 6th. Can be combined with a field trip to Curious Kids' Museum.
Cost of the above Outreach Traveling Programs
$150 for the First Program Hour and set-up. $40 for each following hour. Many schools maximize their set-up dollars by scheduling several classes studying the same topic, and paying the lesser fee for additional hours. Mileages: First 15 miles are free. Beyond 15 miles from the Museum, there is 54 cents per mile transportation charge.
SPECIAL NEEDS OR REQUESTS?
Outreach can adapt to your educational curriculum or theme and develop specific hands-on units, science activities, or crafts, if given advance notice when you schedule. Please call in advance and Outreach staff can work with you to accomplish your curriculum goals or program needs.
ADMISSION
$6 per person, ages 12 months and older.
Children under the age of 12 months, Curious Kids' Museum and Benefactor members are free to Curious Kids' Museum!
Children under the age of 12 months, Curious Kids' Discovery Zone and Benefactor members are free to Curious Kids' Discovery Zone!
Curious Kids' Museum will be open Thursday, September 2 & Friday, September 3, 2021. Online reservations only. Click tickets link below.
Discovery Zone is currently closed for exhibit teardown, cleaning and exhibit install.
Beginning September 8, 2021: No more online reservations for weekday visits! You will be able to walk right in and purchase your tickets! We will limit admission capacity if necessary.
Please note…
Saturdays only: All ticket reservations for Saturday visits are online only. (No walk up sales at this time.)
Saturday will offer 3 timed sessions per day and each session has a limited capacity. Sessions times are 9:30am-11:00am, 12pm-1:30pm and 2:30-4:00pm.