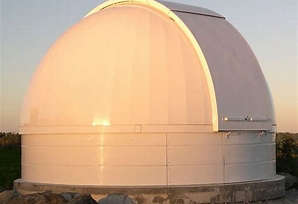 Hemlock Crossing Public Observatory - image: myottawa.org
Local Public Observatory locations offer information and interesting views of the stars and planets. A new location was recently opened along the lakeshore between Holland and Grand Haven.
-The Hemlock Crossing Public Observatory is the first public observatory in West Michigan and it is located at 8115 West Olvie Road, West Olive, which is north of Holland.
The facility houses a 16-inch Schmidt-Cassegrain telescope that was constructed and opened in 2022. It is operated by members of the Shoreline Amateur Astronomical Association (SAAA).
There are opportunities to view stars, planets, meteor showers and maybe even glimpse the northern lights if the conditions are right.
Public viewings are offered once per week as conditions allow. Currently it is open to the public on Friday evenings at 8 p.m. through October 27, weather permitting.
Viewing requires an individual with knowledge on how to operate the telescope to be present. In addition to weekly public viewing evenings, the SAAA will continue to offer a free public program each month at Hemlock Crossing, year-round. During cooler months, the indoor program will be offered regardless of the weather. If conditions allow, stargazing will follow.
More information is available at: https://www.miottawa.org/Parks/observatory.htm
There are other observatories in the area that also offer public viewing.
- James C. Veen Observatory near Lowell
- Stephen S. Wessling Observatory north of Freemont
- Fox Park Public Observatory near Potterville, south of Lansing
-Rogers Observatory on the south side of Traverse City if you are up north