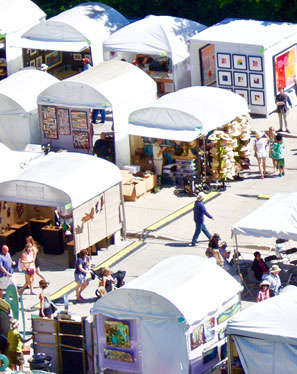 file photo: Ann Arbor Street Art Fair
A number of communities will host local summer Art Fairs, but one of the biggest is the upcoming Ann Arbor Street Art Fair. It takes place July 21-23, 2022.
Summer is often a time for community art fairs. It offers local artists an opportunity to display some of their work, a chance to support them, and purchase unique items.
One of the largest juried art fairs in the nation is located in southern Michigan.
The Ann Arbor Street Art Fair will draw close to a half million people. They will feature nearly 1,000 artists and performers during July 21-23, 2022. There is parking information and maps of the event on their website. Their mission is to increase the public's knowledge and appreciation for fine arts and crafts.
There are also a number of local Arts and Crafts Fairs taking place this weekend, July 16th, including:
-Richland Art Fair, 9-4, corner of M-89 and M-43
-Lake Bluff Artisan Faire, 10am-5pm, Lake Bluff Park, St. Joe
-Mears Arts & Crafts Fair, 9am-3pm, Johnson Square, Mears
-Cadillac Festival of the Arts, 7am-1pm, The Market at Cadillac Commons
-Petoskey Art in the Park, 10am, Downtown Petoskey Offices, 216 Park Ave.
And if you are interested in exposing your children to art, there are a number of summer classes and camps provided by area museums, libraries, and studios:
-Art is Everywhere, July 18, Montcalm Community College, Greenville
-Coldwater Lake Family Art Camp, July 18, Weidman, MI
-Summer Youth Class, July 21, 4pm, Armory 2 Art Studio, Grand Haven
-Kids and Teens Craft Show, July 21, Cascade Township Branch Library, Kent County
-Clay Works, July 28, UICA, Grand Rapids
-Summer Art Camp: Creativity & Careers, July 29, Grand Rapids Art Museum