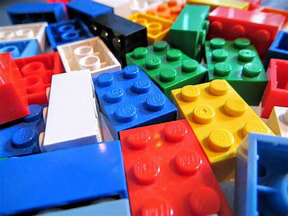 Legos file image - pxhere.com
LEGOLAND Discovery Center Michigan provides a variety of activities for children and parents.
City of Champions - LEGO Event for Kids at LEGOLAND Discovery Center Michigan
10:00 am - 5:00 pm
LEGOLAND Discovery Center Michigan
4240 Baldwin Road, Auburn Hills at Great Lakes Crossing
Join the LEGO@ City Minifigure team, Ricky Rocket Racer, Mech-Max, Go-To Gary, and Fearless Fi as they set epic LEGO Discovery Center Michigan.
-Collect exclusive limited edition mission cards for each Minifigure
-Complete the missions and earn stickers
-Test your stunt skills, rescue animals, and find messages in the street art
-Family brick building games
-Build your own parade float in the Creative Workshop
-Meet LEGO City's employee of the month, Officer Brick!
There are a variety of attractions and ticket packages.
More information: www.legolanddiscoverycenter.com/michigan