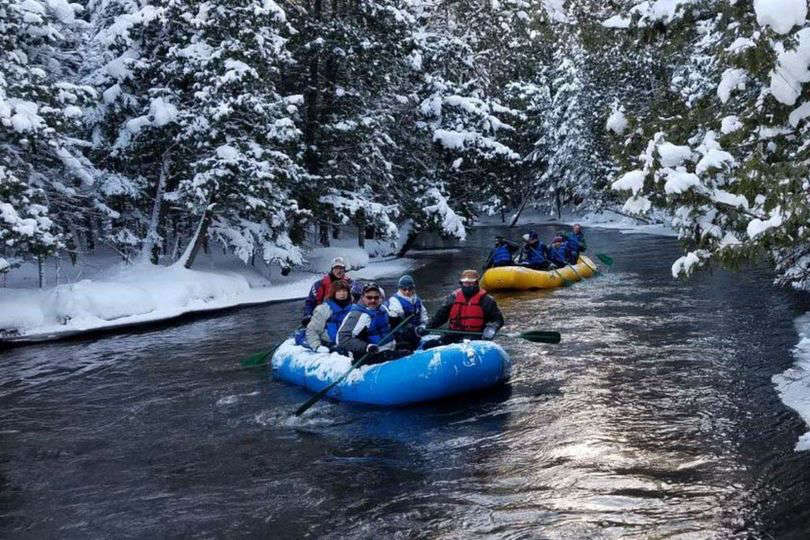 Jordan River Outfitters facebook page
Guided rafting trips on the Jordan River are available during the winter and spring months also.
Guided rafting trips are available in northern Michigan, even during the winter and spring months.
The Jordan Valley Outfitters are located in Northern Michigan in the scenic Jordan Valley, and they offer Eco-Tour paddling trips any time of the year.
This north woods eco-tour experience is great for the entire family from 3 to 90 years young. They are close enough for a day trip, or stay locally and explore the famous Jordan Valley.
You can take a relaxing trip down the first river in Michigan to be designated "wild and scenic."
Jordan Valley Outfitters operates under the special use permit authorized by the Michigan Department of Natural Resources adopted in 2006. Their equipment is inspected annually by the Charlevoix County Sheriff's Department Marine Division. We are members of the Michigan Association of Paddlesport Providers, East Jordan Area Chamber of Commerce and Boyne Area Chamber of Commerce.
Service options: Online appointments · Onsite services
Address: 311 N Lake St, East Jordan, MI 49727
Hours: Opens soon ⋅ 10AM
Updated by others 3 weeks ago
Health & safety: Appointment required · Mask required · Staff wear masks · Staff required to disinfect surfaces between visits · More details