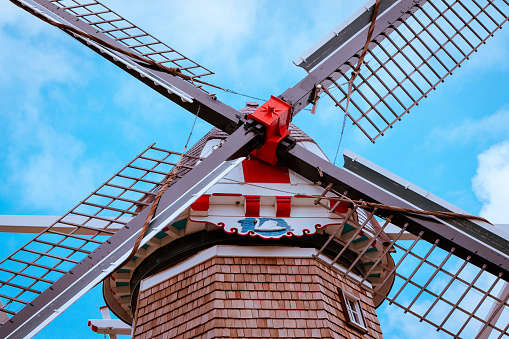 istockphoto unsplash.com
Families may want to consider a holiday season trip to the Windmill Island Gardens in Holland, for "Magic at the Mill."
Holland, MI- With the holiday season quickly approaching, Windmill Island Gardens is excited to launch Magic at the Mill, an all-new holiday event. Guests of all ages can see Dutch attractions and park grounds lit up on the way to the main feature - a "tulip field" of LED lights that will dance synchronized to holiday music, creating a light show that can't be missed.
Tickets for Magic at the Mill are available at magic.windmillisland.com and are priced at $10 for adults, $5 for kids 3 to 15. The first-year event can be experienced the first 3 Fridays and Saturdays of December from 5 to 9 pm. This is an indoor/outdoor event, and guests are encouraged to dress for the conditions. Tickets are limited, so get yours today!
In addition to holiday lights, there will be something to entertain everyone. The carousel will be lit up and running for children to ride. Crafts and activities will be available to pique kids' interest in the magic to be found all around the park. Following his December 2 arrival in Holland, kids of all ages can meet, greet and get a photo with Sinterklaas, the Dutch predecessor of Santa Claus. Sharp eyes might also spy his majestic white horse waiting for him in the park.
While outside, guests can enjoy the antique Dutch street organ playing old and modern holiday favorites. Of course, no holiday is complete without goodies, and plenty of European-style snacks will be available from Village Baker, Waffle Stix, and Nelis' Dutch Village. Last-minute shoppers can discover unique gifts for everyone on their list in the Island's well-stocked gift shops. Visitors looking to keep the evening going will find much more shopping, food, and holiday fun in Downtown Holland, including the festive Kerstmarkt (Christmas Market), which is celebrating its 25th anniversary this year.
"We're excited to welcome thousands of visitors in a new season at our park to enjoy a festive holiday experience," explains Windmill Island Gardens Manager Matt Helmus. "We've been looking for a way to celebrate the season at our park for a while and what better way than with a beautiful field of magical tulips?" He credits a partnership with the Holland Visitor's Bureau as the impetus behind the event as a way to entertain locals and visitors alike.
Tickets for the December event are available online now and are expected to sell quickly.
###

Since 1917, the West Michigan Tourist Association (WMTA) has worked to market the very best of West Michigan to travelers from around the world.

WMTA's membership base consists of more than 800 attractions, lodging, events, and activities all across the west side of Michigan, from the Indiana border all the way into the Upper Peninsula. Over the past century, Michigan's tourism industry has become second to only manufacturing in Michigan, making WMTA a vital resource for the area's tourist destinations. Today, WMTA continues its mission as a self-sustaining, membership-funded non-profit. For more information, please visit WMTA.org. (Press Release from West Michigan Tourist Association)