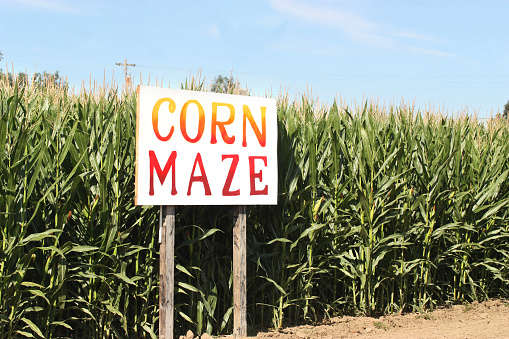 istockphoto unsplash.com
A number of farms will feature corn mazes in the fall. A maze in Webberville this year pays tribute to a state rivalry.
This time of year finds many families looking to tour a corn maze. Many will feature a special design and this year we take a look at a unique maze design paying tribute to the college rivalry between MICHIGAN and MICHIGAN STATE.
Between Ann Arbor and Lansing is the town of Webberville.
Choice Farm Market decided to use their corn maze to celebrate the rivalry between the two universities. An aerial view shows an outline of the state, including the head of the Spartan mascot and the block "M" for U of M.
Loretta Benjamin is the co-owner of Choice Farm Market, where the maze is located. She says they have received positive feedback from the community.
(photo: Detroit News)
Choice Farm Market offers a free hayride from the parking lot to the corn maze. There is also a smaller maze for children.
The smaller maze will cost $5; it will cost $8 to go through the bigger maze.
Kids 4 and under will have free entry. The farm is cash only.
The maze is located at 4212 Holt Road in Webberville at the corner of M-52 and Holt Road.
The maze will remain open until Oct. 30.
Oct. 29 is when Michigan will host MSU in football.