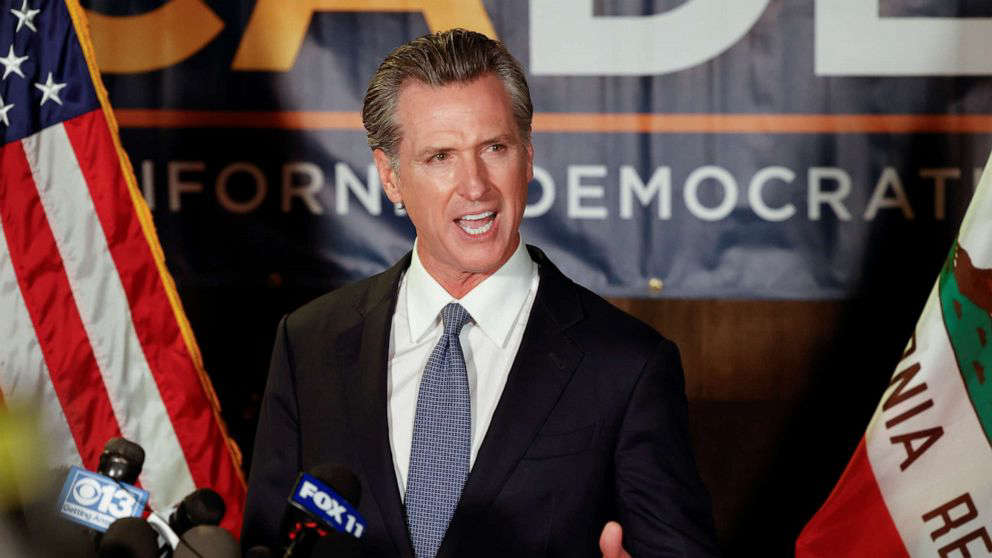 Fred Greaves/Reuters
Gov. Gavin Newsom easily fended off an attempt to recall him from leading the nation's most populous state. Republican talk radio host Larry Elder would have most likely replaced Newsom had the recall succeeded.
(CALIFORNIA) - Voters were asked two questions on their ballot: Should Gov. Newsom be recalled? If more than 50% of voters said yes, then the next question was: Who should replace him?
Newsom, a Democrat , found himself at the center of the country's divisions over COVID-19 and mandates. He was applauded for his work at the beginning of the pandemic, leading the first state to shut down. But after months of tight restrictions, that same work helped ignite the effort that led to the fourth gubernatorial recall election in U.S. history.
Elections experts cautioned results could take time in the state, which is known for taking weeks to count ballots. But less than an hour of polls closing in the state, Newsom was declared the winner by The Associated Press, NBC News and CNN.
"I'm humbled and grateful to the millions and millions of Californians that exercised their fundamental right to vote, and expressed themselves so overwhelmingly by rejecting the division," Newsom said after the race was called in his favor, noting the election sent a message to the rest of the country.
Only twice in U.S. history had a governor been removed from office via recall; in North Dakota in 1921; and in California in 2003, when Gray Davis was removed and replaced by Arnold Schwarzenegger.
Meanwhile, Republican frontrunner and conservative radio host, Larry Elder, had predicted victory but then conceded.