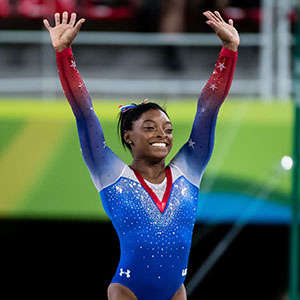 Simone Biles withdraws from team compeitition due to undisclosed injury. Photo courtesy of Team USA.
Simone Biles opts out of the all-around competition.
3pm Update: Biles says it was not a physical injury but her decision to withdraw from the team competition was the result of stress. Biles told reporters that she was experiencing anxiety unlike she has ever experienced and felt it would be detrimental to the team for her to continue.
"I didn't want to risk the team a medal for, kind of, my screw-up because they've worked way to hard for that. I just decided that those girls need to go and do the rest of the competition."
No word if Biles will take part in individual competition.
- Original -
The favorite to capture gold in women's gymnastics for her amazing routines has pulled out of the competition.
The US Women's gymnastics team is moving ahead with the team competition after Biles announced she was withdrawing due to an injury. It comes after the team finished second to Russia in the qualifications on Sunday.
We'll continue to keep you updated on the situation as it develops.