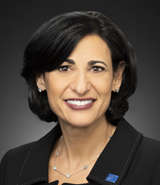 CDC's Dr. Rochelle Walensky is updating mask wearing recommendations after an increase in the spread of Covid-19. Photo courtesy of the Centers For Disease Control. 7/27/21,
The recommendations are for communities with a higher rate of transmission of the Covid-19 and variants.
The CDC is reversing course and recommending masks for fully vaccinated people in indoor settings where they are seeing an increase in Covid-19 cases.
Dr. Rochelle Walensky says the recommendations are being expanded due to an increase in cases of the Delta variant but also because the country is seeing an increase in cases of Covid-19. Walensky says they are seeing these cases rise in places where there are lower rates of vaccination. In some rare cases, people who've been fully vaccinated have been found to be carrying the new Delta variant and may be contagious.
"We continue to strongly encourage everyone to get vaccinated. Getting vaccinated continues to prevent severe illness, hospitalizations and deaths, even with Delta."
It also is making additional recommendations for schools.
"Including teachers, staff, students, and visitors, regardless of vaccination status."
Walensky says vaccines continue to be a major deterrent. Walensky says additional changes may be made as necessary.