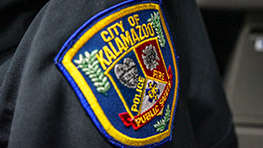 Kalamazoo Public Safety. Photo courtesy of the KDPS. 7/26/21.
Kalamazoo public safety continues to investigate an early Sunday morning shooting.
Two Kalamazoo area teens were shot, one fatally, during a Sunday morning incident. A SUV apparently pulled up to the teens, who were walking with others on Gull Road near Inverness Lane. A young man showed up at a local hospital and is listed in critical but stable condition. A young woman passed away as a result of her injuries.