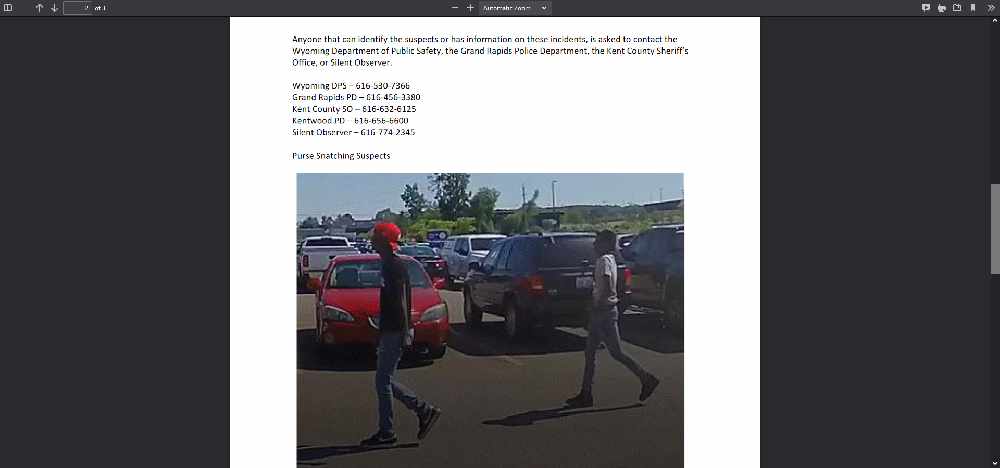 Alleged purse snatching suspects in Kent County. Image courtesy of the Wyoming Police Department.
Over the past few weeks, there have been several purse snatching incidents at large retail establishments in Wyoming, Grand Rapids, Kent County, and Kentwood.
The suspects appear to be targeting females in the parking lot who are alone, over the age of 50, and have their purse in a shopping cart. When the victim is not paying attention, the suspects will take the purse from the cart and flee. In one instance, the victim had her purse in her hands and the suspects pulled it away from her. The victim attempted to chase after them and fell to the ground, receiving minor injuries to her hand.
Incident Dates and times:
•6/13/21 at 4:40 pm Wyoming
•6/14/21 at 12:10 pm Kentwood
•6/21/21 at 12:10 pm Kent County
•6/21/21 at 3:45pmKent County
•6/21/21 at 12:27 pm Grand Rapids
•6/22/21 at 6:00 pm Wyoming
•6/23/21 at 1:10 pm Grand Rapids
•6/28/21 at 2:35 pm Kent County
•6/28/21 at 4:30 pm Kent County
Investigators from all four agencies have been working diligently to identify the suspects involved in these incidents.