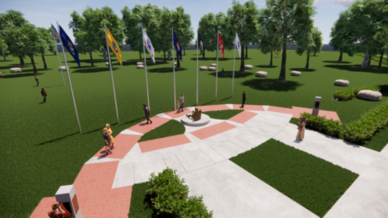 Organizers of a WWII memorial in Michigan broke ground for the first phase of the project. Image courtesy of The Michigan WWII Legacy Memorial. 4/8/22.
Ground was broken for a World War II memorial to honor the thousands of Michigan residents who gave their lives in service to their country.
Hundreds turned out for the ceremony in Royal Oak, many were veterans and their families. Others included women who helped serve during the war by taking manufacturing jobs to help in the war effort.
The first phase will include fundraising. The organization is looking to raise 300 thousand dollars to build the Wall of Stars, to honor the over 15-thousand Michigan residents who gave their lives during the war.
The memorial will include a walk of honor, statues and flags representing the branches of service.
For more information visit - Michigan WWII Memorial