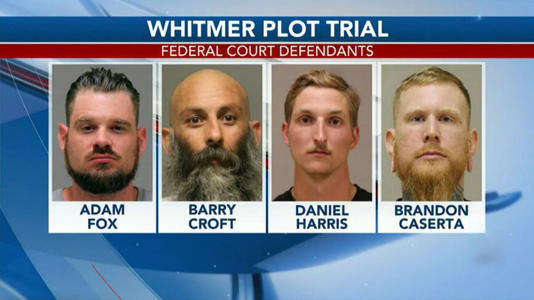 photo: Lansing WILX-TV
Four men are accused of a plot to kidnap Governor Whitmer.
GRAND RAPIDS, Mich. - The federal trial is taking place in Grand Rapids and now jurors will decide whether or not to convict four men in a plot to kidnap Michigan Governor Gretchen Whitmer.
The prosecutor urged the jurors on Friday to convict the men saying they were anti-government extremists "filled with rage" and intend on touching off a civil war.
The defense lawyers argue that the group was manipulated by an FBI informant.
On Friday the jury heard closing arguments and then received instructions and chose a foreperson. The jury decided deliberations would start Monday.
Adam Fox, Barry Croft Jr., Daniel Harris and Brandon Caserta were arrested in October of 2020 and were charged with conspiracy to kidnap. Three of them also face weapons related charges.