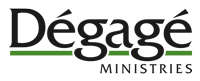 degageministries.org
Some of the areas top chefs will prepare food for the "Breaking Bread" event on Thursday.
Five Grand Rapids' chefs will come together October 7 for a peak-harvest, five course, farm to fork dinner to help take a bite out of homelessness in Grand Rapids.
"Breaking Bread" will feature Clark Frain, Terra; Armando Suarez, Rose's; Katy Waltz, MudPenny; Devin Cook, Bistro Bella Vita and Amy Ruis, Apperitivo.
The event will benefit Degage Ministries capital campaign "Building Dignity Through Christ", which has already raised nearly $6.8 M of its $7.3M goal.
Tickets for the event are sold out but there is also another way to support the ministry and that's through their Celebrate Degage Ministries Banquet, November 12, at the Meijer Gardens and Sculpture Park.
The ministry provides responsive programming designed to address immediate and long-term needs such as overnight respite for women in crisis, food, referral services and hygiene facilities. Dégagé's goal is to assure that every man and woman who we serve knows that he/she is not alone. Many hardships exist in life and none of us are exempt from them. For those 400-500 individuals we serve daily at Dégagé, many of whom are homeless and low-income, the hardships can be overwhelming—loss of shelter, loss of employment, loss of a loved one, loss of control and loss of opportunity. And with these hardships, they lose much more. Many feel unworthy and hopeless, especially after society has looked down upon them or they have been rejected after repeatedly trying to move forward on their own.
There is more information at: degageministries.org