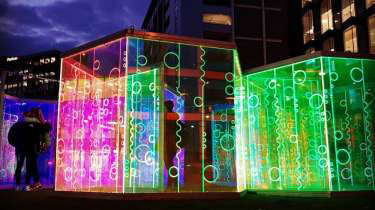 photo: experiencegr.com
A winter festival in Grand Rapids will provide free programs and activities during the winter months.
The "World of Winter" will return to downtown Grand Rapids, January 7 - March 6.
The festival is designed to celebrate the winter months and all the free programs are geared for both families and adults.
Outdoor art will be features which will include unique interactive art installations and ice sculptures.
Grand Rapids invites you to experience the cold-weather season in new and creative ways during its annual World of Winter Festival.
A number of artists will be featured. Musical performances and other forms of entertainment will be featured. Other options include games and guided walking tours.
It all takes place outdoors and completely free.
Visit the World of Winter website for complete details.