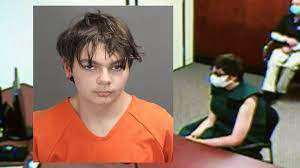 Ethan Crumbly mug shot and image of his first court appearance.
All three members of the Crumbly family were in court today but for different reasons.
The accused Oxford School shooter will be going to trial. Ethan Crumbly waived his right to a preliminary exam, an effort typically used to determine if there is enough evidence for the suspect to stand trial.
Meanwhile, Ethan Crumbly's parents were in court today asking for a reduced bond. Prosecutors contend the Crumbly's would be a flight risk.
They contend the Crumbly's hid from police, made efforts to cover their tracks, withdrew close to 10 thousand dollars from bank accounts while behind on their mortgage payments.
The couple were asking the bail be reduced for both of them from 500 thousand to 100 thousand dollars.
Defense lawyers did not deny the allegations but argued the couple were being smeared by prosecutors.
The judge denied the bond based on multiple factors. Including efforts to hide from police, selling possessions including horses. Family members in Florida appear to be handing those sales.
All three members of the Crumbly family remain behind bars.