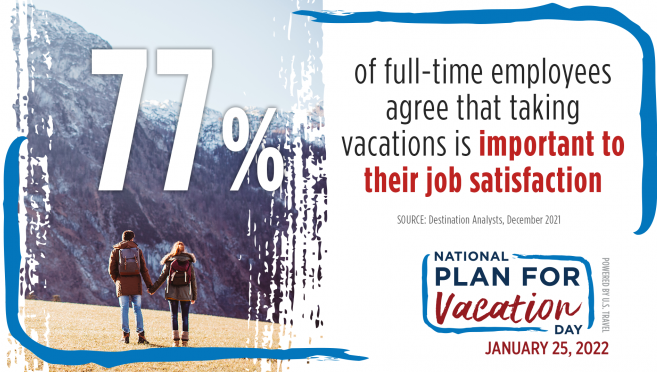 National Plan for Vacation Day is an attempt to encourage us to take some time off to recharge and gain perspective. Image courtesy of the US Travel Association. 1/25/22.
More Americans are feeling burned out. So why not plan a getaway?
The last few years have certainly impacted our ability to travel, but as we've progressed through the pandemic, there are opportunities to still take some time off and recharge.
National Plan For Vacation Day was instituted as an effort to help us take some time off of work to avoid burnout, regain some perspective, or just take some time away.
More than 2/3rd's of American workers feel at least moderately burned out and 13% are feeling extremely burned out.
The struggle includes a feeling among workers that they can't take time away. 61% find it more difficult to unplug from work.
But at the same time, there is a sense that vacations are important and crucial to our well being.
As vaccines became more accessible, demand for travel surged. Now nearly six in 10 agree that travel is important and budgeting for a vacation has become a priority.
To get more information, visit US Travel Association for a vacation planner.