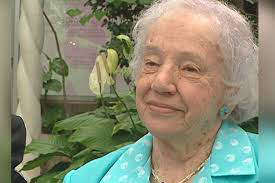 photo: woodtv.com
Lena Meijer and her husband Fred, are known for the generosity throughout the Grand Rapids area.
Lena Meijer passed away on Saturday. She was 102.
"The blessings of a long and fruitful life outweigh the sorrow with the passing of our mom, Lena Meijer," said Executive Chairman of Meijer Hank Meijer. "Her gracious, giving spirit and dedication to her family, our company and our community were beyond measure and appreciated by many. She will be greatly missed."
Meijer was born in 1919 on the family farm near Lakeview, MI.
Fred and Lena Meijer's philanthropic efforts extended beyond the Meijer stores they are associated with.
The Spectrum Health Fred and Lena Meijer Heart Center opened in 2004 and provides open heart surgery and transplants.
In the 1990s, Lena and Fred Meijer backed what would eventually become the Frederik Meijer Gardens and Sculpture Park on the northeast side of Grand Rapids. Two attractions within the park behold Lena Meijer's namesake, the children's garden and tropical conservatory. A replica of her childhood home and farm was also built on the property.
In lieu of flower, the Meijer family is asking memorial contributions in Lena Meijer's name be made to the Lena Meijer Children's Garden.