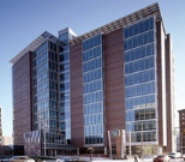 Kent County Courthouse building. Image courtesy of accesskent.com.
Chief Judge Mark Trusock makes the announcement following a brief consultation.
The Kent County 17th Circuit Court has adjourned all jury trials until Monday, March 7, 2022. This is due to a surge in the number of Covid-19 cases in Kent County.
Chief Judge Mark Trusock made the decision after consulting with the State Court Administration Office and the Kent County Health Department.
Jury trials will resume on Monday, March 7th, 2022 barring any unforeseen circumstances.
If you have any questions, please contact the 17th Circuit Court office at 616-632-5220.