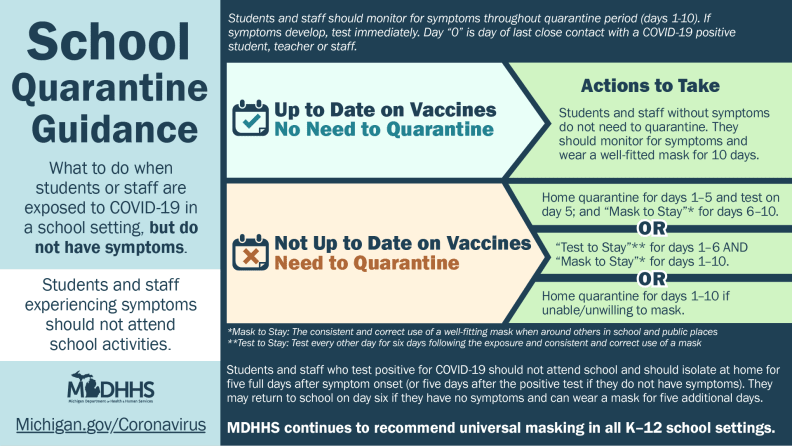 CDC image
The state could shortened quarantine and isolation guidelines for K-12 schools.
LANSING, Mich. – Michigan health officials on Monday updated their guidance to reflect updates made by the CDC.
The CDC's modifications to the guidance shortens the quarantine and isolation periods to as short as five days in some circumstances.
Health officials said the guidance will help K-12 schools maintain in-person learning.
Health officials say isolation and quarantine are being used to help prevent the spread of coronavirus.
Isolation is meant to separate people who are infected from those who are not.
Students, teachers and staff who test positive for COVID or have symptoms should isolate regardless of vaccination status.
If should monitor for symptoms from the day of exposure through day 10 of isolation. They should isolate at home for five days after symptoms begin, or after the COVID test was taken for those who are asymptomatic.
If symptoms improve, or they still don't have symptoms, they can return to school for days 6-10 while wearing a mask. They should stay home for all 10 days if unwilling or unable to wear a mask.
If the individual has a fever they should stay home until they are fever free for a period of 24 hours without the use of fever-reducing medications.
Quarantine people may have been exposed and could have been infected.
Close contacts of a COVID-19 case do not need to quarantine at home if they had a confirmed COVID-19 case within the last 90 days and/or are up to date on all recommended COVID-19 vaccines.
They should still monitor their symptoms and "mask to stay" for 10 days from the date of their last exposure to COVID.
Close contacts of a COVID-19 case who do not meet the criteria mentioned above need to quarantine or may need to "test to stay" and/or "mask to stay."
They may be required to quarantine at home for days 1-5, take a COVID test on day five and "mask to stay" for days 6-10. Or they may be required to "test to stay" for days 1-6 and "mask to stay" for days 1-10 or home quarantine for days 1-10 if unable or unwilling to wear a mask.
Students, teachers and staff should monitor for symptoms throughout quarantine for days one through 10. Day "0″ is the day of the last close contact with any COVID-19 positive individual. If you get symptoms, get tested.