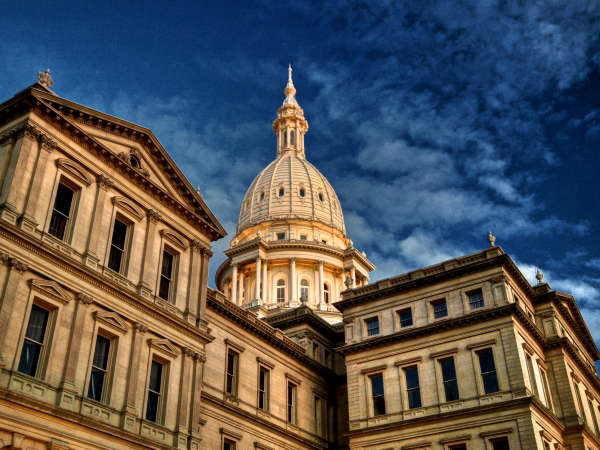 image - Michigan State Capitol in Lansing - photo David Marvin
Several gathered in Lansing to protest high rent and lack of affordable housing in Michigan.
LANSING, Mich. - Between 200 and 300 housing advocates from across the state gathered at the state Capitol in Lansing on Tuesday.
They were calling for lower rent and more protections for tenants. Tenants continue to struggle with the high cost of rent and finding housing that is affordable.
They are demanding changes and their list of priorities include:
lifting a ban in state law on rent control
establishing a renters' bill of rights
building publicly owned housing that is rent-stabilized
prioritizing housing for people experiencing homelessness
Many say they should not have to decide between shelter, rent, food, or medication.
According to the National Low Income Housing Coalition, Michigan has a shortage of affordable housing for extremely low-income renters, or a family of four earning $26,500.
Based on 2021 data, the group estimates that Michigan needs an additional 191,717 rental homes to meet the needs of these Michigan renters. Thirty-nine percent of people in the state make too much to qualify for federal benefits but too little to make ends meet. Rent is among te highest expenses for many.
Michigan law prohibits local governments from designating the amount of rent a private residential property charges. Advocates want that ban lifted. They also called for a "renters' bill of rights," including housing for formerly incarcerated people, legal counsel for tenants and increased safety and inspection standards.
This summer, state Rep. Emily Dievendorf, D-Lansing, introduced legislation to create a "bill of rights for the homeless," including a guarantee that people experiencing homelessness can move freely in public places without discrimination, have equal access to jobs without a permanent mailing address and have privacy of their personal property just as a someone with a residence.
Earlier this year, Gov. Gretchen Whitmer signed legislation that is aimed at increasing affordable housing in the state. The legislation would modify the state's brownfield development fund so that it supports housing developments.