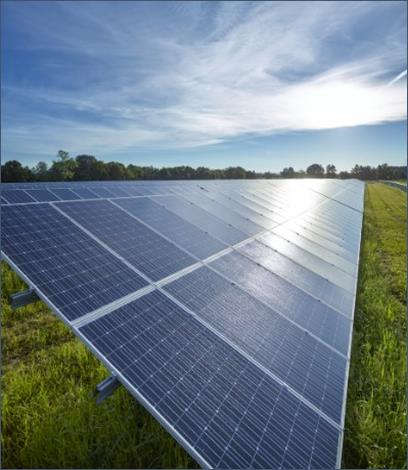 Consumers Energy proposes renewable energy offerings that would provide greater access and affordability for their customers in Michigan.
JACKSON, Mich., Sept. 21, 2023 – (Press Release) - Consumers Energy today announced a sweeping new proposal to expand access and improve affordability to its renewable energy offerings, building on its already industry-leading Clean Energy Plan to eliminate coal and be carbon neutral.
Consumers Energy plans to update its renewable offerings by cutting costs for community solar by more than 50% and enabling every customer to match 100% of their energy use with wind and solar. Landlords, businesses and other individuals would also be able to purchase renewable energy on someone else's behalf. The company will file its plans this Friday with the Michigan Public Service Commission (MPSC).
"Consumers Energy is committed to a clean energy future for Michigan, and our renewable offerings will allow our neighbors who also want to protect the planet to join us in that mission," said Lauren Snyder, Consumers Energy's vice president of customer experience. "We're excited to break down barriers, expand accessibility, drastically lower costs and provide more options that accelerate new clean energy projects in our state."
Highlights of Consumers Energy's customer-powered proposal:
· Affordable community solar for all – Consumers Energy wants to help any customer use solar energy, even if they may not be able to install rooftop solar. Our plan will allow us to cut in half the cost of our monthly Solar Gardens subscription and build more 100% Michigan-made community solar fields around the state, increasing accessibility, affordability and community engagement.
· More options for large-scale solar and wind – Consumers Energy is seeking to remove the cap on its renewable energy programs to move forward with wind and solar projects as quickly as customers desire. Existing business and residential programs would be combined, giving residential customers a second option to sign up for renewable energy.
· Green Giving – This new initiative will allow program subscribers to pass along clean energy benefits to others. This would be a path for businesses, nonprofits, charitable foundations or individuals to share program benefits with friends, family, tenants, staff or to help low-income neighbors in need. This offering has a dedicated focus to support those who receive this gift to enjoy the financial and environmental benefits from wind and solar projects that Consumers Energy develops.
"Consumers Energy is committed to providing solutions for the communities we serve. We want to make enrolling in our solutions accessible and affordable so all customers can benefit from our renewable energy programs," Snyder said.
The proposal, which needs MPSC approval next year, addresses customers' desire for Consumers Energy to develop affordable, equitable clean energy for all. Today, Consumers Energy operates local community solar energy projects in Cadillac, at Western Michigan University and at Grand Valley State University through its Solar Gardens program and will match large businesses' energy use with clean energy sources.
Consumers Energy is Michigan's largest energy provider, providing natural gas and/or electricity to 6.7 million of the state's 10 million residents in all 68 Lower Peninsula counties.