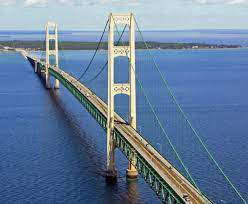 unsplash.com - image

Many Americans will head out of town to celebrate the Labor Day weekend. The Mackinac Bridge Walk on Monday will attract hundreds and the bridge will be closed 6:30 a.m. - Noon.

(Positive Prep) - Labor Day recognizes the men and women who labor to build this country...it's a day to celebrate the American workforce. Since the founding of the United States, the country has relied on its workforce for its infrastructure. From its streets and buildings to its transportation and security, our country runs on labor. The labor of what we create, build, and harvest fuels our education and inspires our dreams. Labor Day also signals the official end of summer.

Millions are expected to travel this weekend for the unofficial end of the summer. Most travelers will drive, but airports are expected to be busy too. More than 95 million Americans are expected to travel this weekend, with over 14 million passengers expected to depart from US airports. Anticipate increased traffic today (Friday). The best time for car travel during the long weekend will be early mornings or evenings. If you have to travel during peak traffic hours, use navigation apps and local transportation departments to avoid long delays. Labor Day not only serves as a commemoration of the contributions of the labor movement and the workforce, but also as an opportunity for individuals and communities to engage in meaningful acts of service. Amid the holiday's festivities, many will come together to give back to our community. From food drives to community clean-up initiatives, Labor Day has evolved into a day of active engagement and compassion. Families, friends, and individuals join hands in support of charitable causes, fostering a sense of unity and solidarity that echoes the values at the heart of the labor movement. Most government buildings and offices will be closed for the holiday, that includes courts, post offices, government offices, and most banks. Most public libraries will also be closed. Most stores however will be open for normal business hours. Labor Day is a popular time for finding a good deal. Many businesses have sales in hopes of bringing us in the doors or for browsing online. Clothing, furniture, appliances, and even cars! If you need to make a big purchase, you could save money this Labor Day!