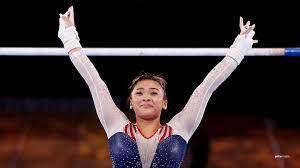 Sunni Lee captures gold in the women's all-around competition at the Tokyo Olympics. Image courtesy of TeamUSA. 7/30/21.
The 18-year old becomes the first Hmong representative of the United States in an Olympic competition.
The 18-year old from St. Paul Minnesota stepped up to the spotlight and answered the call as she beat Brazil and the Russian competitors. Lee, who recently graduated high school, took the stage after favorite Simone Biles withdrew from the competition.
Lee says she felt that she needed to do exactly what she had trained for but never felt she would be in this position. Biles being the favorite, led her to believe she would possibly take the silver. Lee had finished behind Biles in the Nationals.
That changed when Biles withdrew.
"I've just been telling myself to do nothing less, nothing more," Lee said. "Because everything that I've been doing has been pretty good so far."