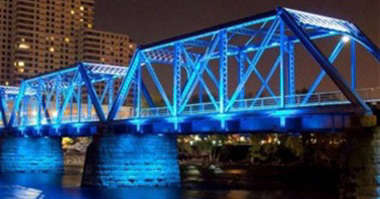 image - city of Grand Rapids website
The city of Grand Rapids, along with the police department, decide to close the Blue Bridge on weekends, as they work to make the city safer.
GRAND RAPIDS, Mich. – (City of Grand Rapids Press Release) - Beginning Friday, June 9, the pedestrian-only Blue Bridge in downtown Grand Rapids will close from midnight to 6 a.m. Friday, Saturday and Sunday nights until further notice. The decision was made jointly by GRPD, Downtown Grand Rapids, Inc. (DGRI) and the City of Grand Rapids.
Pedestrian access to cross the Grand River remains available on Pearl Street NW and Fulton Street W. Late-night DASH service provides public transit access near the west end of the bridge.
"We want to set the expectation early on this summer that the Blue Bridge is not a place for large crowds to gather in the overnight hours," Chief Eric Winstrom said. "This is a proactive step we are taking as GRPD, other City Departments, DGRI and stakeholders work together to provide a safe and welcoming environment for residents and visitors."
Detectives continue to investigate the incident in which a vehicle was struck by gunfire near the bridge in the early morning hours on Sunday. "We are reviewing video footage from multiple sources," said Winstrom. "And while we are not ready to issue charges for the person who fired the shots that hit the vehicle, six arrests have been made in conjunction with large gatherings on the bridge over the weekend. We are focused on taking both enforcement action and preventative action to keep our community safe."