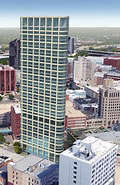 Downtown Grand Rapids, city-data.com
Grand Rapids city leaders validated a zoning amendment to allow for taller buildings downtown.
GRAND RAPIDS, Mich. — The skyline of Grand Rapids could change a bit as city leaders validated a zoning amendment that would allow buildings in certain areas to be build up to 20 stories.
The Grand Rapids Planning Commission has given the go-ahead to a developer's proposal for a building exceeding current story limits.
Currently only developments in the main district of downtown Grand Rapids, along Monroe Avenue and Division Avenue, can build up without limitation.
If changes are approved the city could see taller buildings on the city's west side.
Affordable housing needs are a concern and according to a study by Housing Next, the city needs 14,000 new homes and units by 2027 to keep up with population increases.
The Grand Rapids Chamber of Commerce and Downtown Grand Rapids Inc. sent letters to the planning committee expressing concern for housing opportunities.
The zoning proposal heads to the City Commission and they will consider it at their next meeting on June 6.