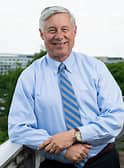 photo: fredupton.com
Local Congressman Fred Upton says he won't run for a 19th term.
Fred Upton, 68 years-old from St. Joseph, Michigan, announced today that he will not run for a 19th term in Congress. He made the announcement on the floor of the House of Representatives and told them he will not seek reelection in 2022.
Recent redistricting put Upton and Representative Bill Huizenga in the same district.
In February, Upton's campaign aired an ad that signaled he was more likely to run but he stopped short of announcing a bid.
Upton is one of the longest-serving Republicans in the House of Representatives.