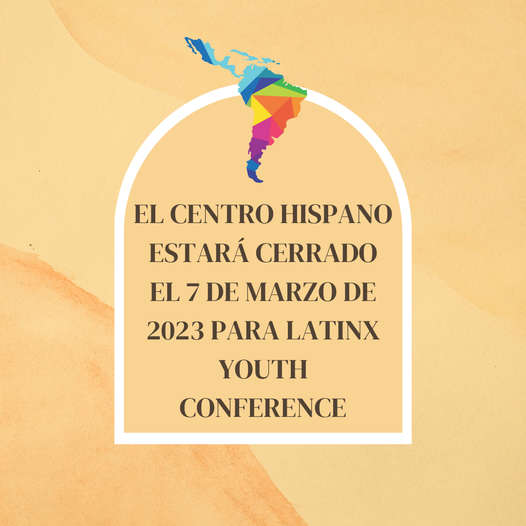 image: facebook page Hispanic Center of Western Michigan
Some 800 8th graders from West Michigan schools will attend a special Latinx Youth conference today.
GRAND RAPIDS, Mich. (Hispanic Center of Western Michigan press release) – The 2023 Latinx Youth Conference (LYC) will take place on Tuesday, March 7 from 9 a.m. to 1:30 p.m. at Grand Rapids Community College (GRCC) and involve 800 eighth grade Latinx students from 26 West Michigan schools.
Presented in partnership with Grand Rapids Community College, Trinity Health, Steelcase and supporting sponsors, the Hispanic Center of Western Michigan is proud to take the lead in organizing the first in-person LYC since 2019 in support of the next generation of leaders in our community.
"The Latinx Youth Conference will provide many opportunities for our local Latinx eighth graders at a critical time in their lives," said Evelyn Esparza-Gonzales, Executive Director, Hispanic Center of Western Michigan.
"As students begin to contemplate high school, higher education and their career paths, the event will provide workshops designed to prompt students to consider all their options including college, trade schools, entrepreneurship, and public service. Plus, Lupita Infante Esparza will be performing and talking with students during her time as keynote which will be inspiring, and not your typical keynote presentation!" Infante, who performed locally as a headliner most recently at Hispanic Festival 2022, sings traditional mariachi, norteña, and ranchera music. Her 2019 debut album, La Serenata, was nominated for a Grammy Award for Best Regional Mexican Music Album. In 2020, her song "Dejare" was nominated for a Latin Grammy Award. She started her career in showbusiness with her father Poncho D'Alessio, who had a musical show called La Familia D'Alessio on Tijuana television. Infante holds a Bachelor of Arts degree in Ethnomusicology (world music) from UCLA's Herb Alpert School of Music and is often acclaimed for continuing the legacy that brings cross-generational audiences to admire Mexico's beautiful music traditions.
For the 2023 LYC, the Hispanic Center formed a conference organizing committee comprised of organizations representing the education, business, and diversity and inclusion sectors. These include Calvin University, Cornerstone University, Davenport University, Grand Rapids Community College, Grand Rapids Public Schools, Grand Valley State University, Kent County, and Mercantile Bank of Michigan.
The committee met monthly to define workshops, select scholarship recipients and garner support of the event from the community.
Four $1K scholarships are being awarded during the LYC for post-high school educational opportunities in the areas of Arts & Culture, Art/Photography, Storytelling and Accomplishments. LYC supporting sponsors include Calvin University, Davenport University, Ferris State University, Grand Rapids Public Schools, Grand Valley State University, Kent County, Kent County Sherriff's Office, Lake Michigan Credit Union, Mercantile Bank, Rotary Club of Grand Rapids, The Nature Conservancy and University of Michigan Health-West.
"Our goal for the Latinx Youth Conference is to incentivize students to stay in school and consider what could be their next steps," said Esparza-Gonzalez. "We want to open doors for students and help them make connections for what can be bright futures for themselves and their community!" The Hispanic Center of Western Michigan is a non-profit organization serving the needs of the Latino and broader community to provide an avenue for education and openness in promoting discussion of the distinctions and values of different nationalities and cultures.
The Center also focuses on the common thread that unites all people: a desire for understanding and respect of differences. Since 1978, the Hispanic Center has offered the services that individuals and families in the community have needed to help them achieve self-sufficiency.