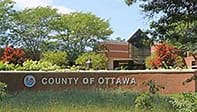 There are reports that Ottawa County will pay Health Officer Adeline Hambley to settle her lawsuit.
OTTAWA COUNTY, Mich. — Attorneys are reportedly working to finalize a deal between Ottawa County and Health Officer Adeline Hambley. Sources say the County will pay $4 million to Hambly and she will then officially step down as officer and drop her lawsuit.
It was earlier this year that Administrative Health Officer Adeline Hambley was removed from her position. The board cited misconduct and neglect during the budgeting process.
She sued and said their actions were illegal.
Commissioners this week went into a closed session & then voted 7-3 to accept their counsel's recommendation regarding litigation and settlement activities in the case of Hambley v. Ottawa County.
The parties plan to meet again at their next board meeting, November 14.