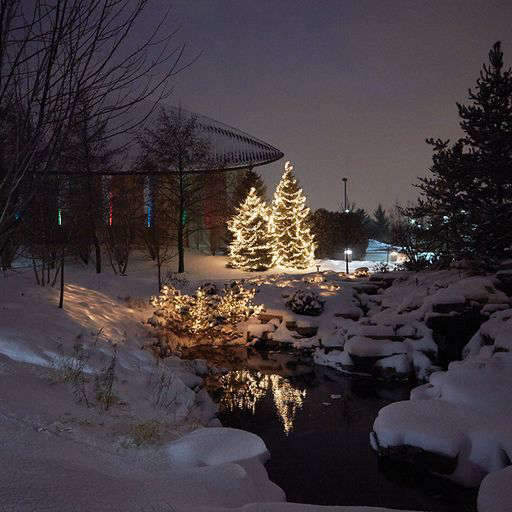 Over 350-thousand lights will be on display this Christmas season at the Frederick Meijer Gardens as part of their Holiday display. Image courtesy of the FMG. 11/22/22.
The Gardens prepares to ring in the holiday with several unique attractions.
Lighting up the Christmas holiday will be the theme for the the 28th annual University of Michigan Health-West: Christmas & Holiday Traditions exhibition at the Frederick Meijer Gardens.
The Gardens will not get rid of all the flowers, but they will fill a lot of space with 46 Christmas trees from round the world. You can learn about the various cultures, and see how each one rings in the Christmas season.
Also part of that, the Garden's amphitheater will be transformed into a seasonal light experience. John VanderHaagen tells WCSG it's a dramatic display of the sights of the season.
"Completely immersive, projection light show, a unique audio track that's been recorded for this. It's going to be a full sensory experience that needs to be seen to be believed."
VanderHaagen with the gardens says some 350,000 lights will be used both indoors and outdoors in the displays. The light show experience will take place every half-hour during the week before and the week after Christmas.
In addition, the Gardens will be offering several discussion times that focus on several faith's and how they celebrate the season.
For more information on the many activities during Christmas at the Gardens, visit Gardens.