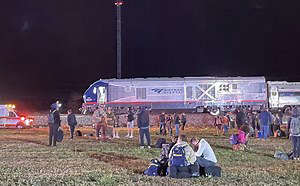 An Amtrak train hit an empty vehicle and derailed near New Buffalo, Michigan.
BERRIEN COUNTY, Mich. - An Amtrak train, with some 200 passengers, was headed from Pontiac to Chicago Thursday night when it derailed.
It was about 10 p.m. when the train hit an empty truck that was on the tracks just north of US-12 between New Buffalo and Three Oaks. The truck then burst into flames. No one was in the vehicle at the time.
The train derailed but stayed upright.
Some minor injuries were reported.
A bus was used to pick up passengers and a temporary shelter was set up.
Train cars are being removed from the tracks but Amtrak says it will be at least a week to repair the track.
Amtrak posted that a number of trains have been canceled due to that crash.
It includes the Wolverine line, which runs between Chicago and Pontiac, and The Blue Water line, which runs between Port Huron and Chicago.