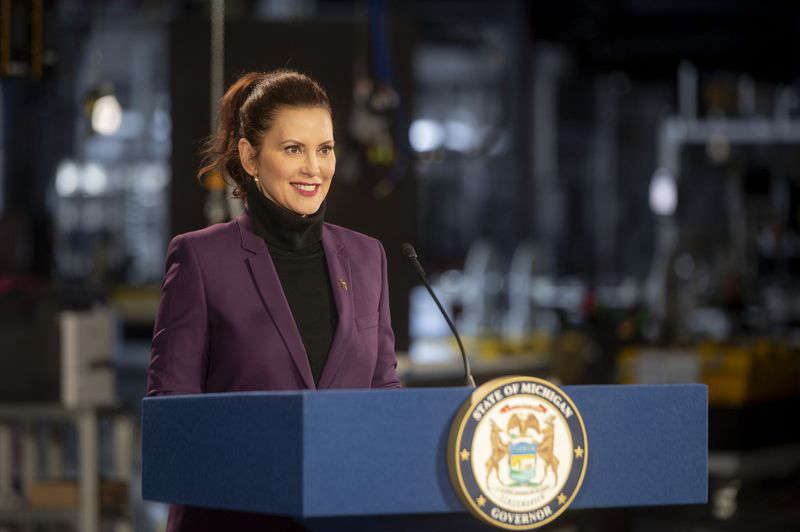 Photo: Jacob Hamilton | jhamilt3@mlive.com
Governor Whitmer pushes 'kitchen table issues' in her State-of-the-State address Wednesday evening.
Michigan Gov. Gretchen Whitmer delivered a 27-minute address from the Detroit Diesel manufacturing facility.
She said it has been another tough year but we are making progress. She stressed unity and working together to make Michigan a better place to live and work.
The State-of-the-State address focused largely on tax cuts, job incentives and the economy.
The Governor touted Tuesday's announcement that General Motors Co. would be investing $7 billion in electric vehicle battery manufacturing facilities in Lansing and Orion Township. She also proposed a state tax credit for the purchase of an electric vehicle and charging equipment.
In the address the Governor also called for exempting retirement income from taxation and fully restoring a credit for 730,000 low and moderate wage families who on average, would get an extra $350 annually.
She proposed actions to lower the cost of insulin. The Attorney General is seeking to launch an investigation into one of the three largest manufacturers of insulin. Lawmakers are taking a look at bills that would cap the cost of insulin at $50 a month.
She would like to recruit more mental health workers and expand mental health spending in schools, among other things.
Details of the Governor's address can be found at: Governor Whitmer's 2022 State of the State Address as Prepared for Delivery