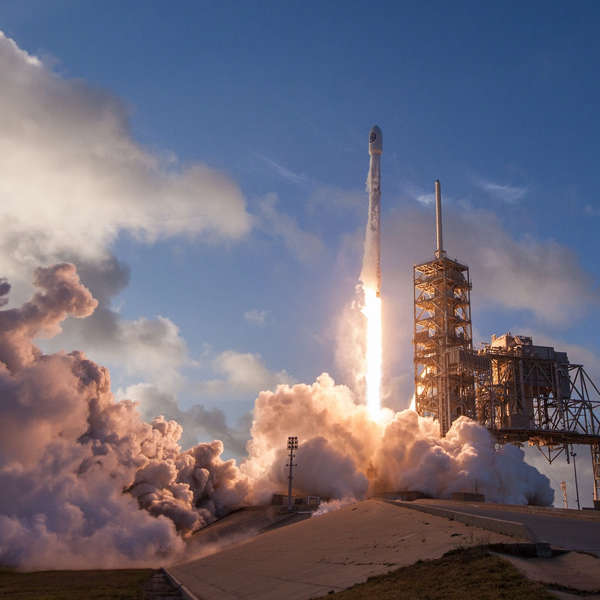 SpaceX file photo of 2018 Falcon 9 launch (c) Unsplash.com
Intl. (MNN) - SpaceX satellites promise to deliver high-speed internet. Wycliffe USA's Andrew Fleming says the project benefits Gospel work, too.
"SpaceX intends to launch thousands of these (satellites) around the globe… by using this technology, we're going to be able to get the translation work being done in very remote places to consultants, to teams… that we previously weren't able to do easily," Flemming says.
"God is taking these types of tools and using them to accelerate the work of Bible translation and dramatically impact the future of communities around the world."
It isn't the first time Bible translators found advantages in outer space.
"Wycliffe has used satellites in the past, but these have been geostationary or geocentric satellites. The SpaceX Starlink satellites will provide more significant access and quicker speed," Flemming says.
"We've begun testing this in the U.S. The hope is that within the next 18 months, two years, the fuller network of satellites will be in place, which will give us access to those most remote places in the world."
The new frontier of Bible translation
It will be a Godsend for translators who work in remote regions of the world – translators like Sandra.
"She's a mom [who] lives in a smoky little house where she cooks over an open fire. She charges her computer with solar panels, and she lives in a small village," Flemming says.
"Periodically, she has to make a two-hour trek through the jungle and down the mountain, with her baby and her laptop, where she can reach a small town that has an internet cafe. And that internet cafe has just enough bandwidth to do a 'send/receive' with other members of her translation team."
If she had access to high-speed internet via a Spacelink satellite, Sandra – and other translators like her – could transmit her work as soon as it's complete. Contact Wycliffe USA to learn how you can support this new initiative.
Most importantly, pray. Ask God to give Wycliffe USA's team wisdom as it enters this new frontier of Bible translation.
"Pray specifically for the technology as our technical operations team works to identify potential challenges. Ask for wisdom and quick minds as we work through those challenges," Flemming requests.
"Prayer is extremely important; in fact, probably the most important step in Bible translation. I would encourage any of the listeners or readers to pray for the work of Bible translation."
---
by Katey Hearth (Mission Network News)